Building better postoperative pathways
Historically, when a patient requires urologic surgical intervention, the focus has been on the surgery itself. At Penn State Health Milton S. Hershey Medical Center, the urology team is now focused on what patients need after surgery, as well, an approach that leads to better outcomes.
"We spend a lot of time focusing on the operation for the patient, but admittedly we don't spend as much time looking at recovery and convalescence after surgery and how to standardize that," says Jay D. Raman, MD, FACS, chair of the Department of Urology at Penn State Health Milton S. Hershey Medical Center. "As a result, one surgeon or clinician follows one pathway, another follows a second pathway and a third follows yet another. Due to this lack of standardization, there is remarkable variability regarding how patients are cared for. This leads to variation in length of hospital stay and the potential likelihood of readmission."
Within medicine, inconsistent care leads to inconsistent results. Providers must approach each patient as an individual, but when a disease process or condition is present, treatment must be consistent and fall within certain parameters to allow recognition of the efficacy of any given treatment. New postoperative pathways developed by Dr. Raman and colleagues are putting that needed consistency in place following surgery.
"It doesn't help the patient or the health care system to discharge someone home in 24 hours, just to have them readmitted to the ER," Dr. Raman says. Such an event results in a net negative from a patient care perspective.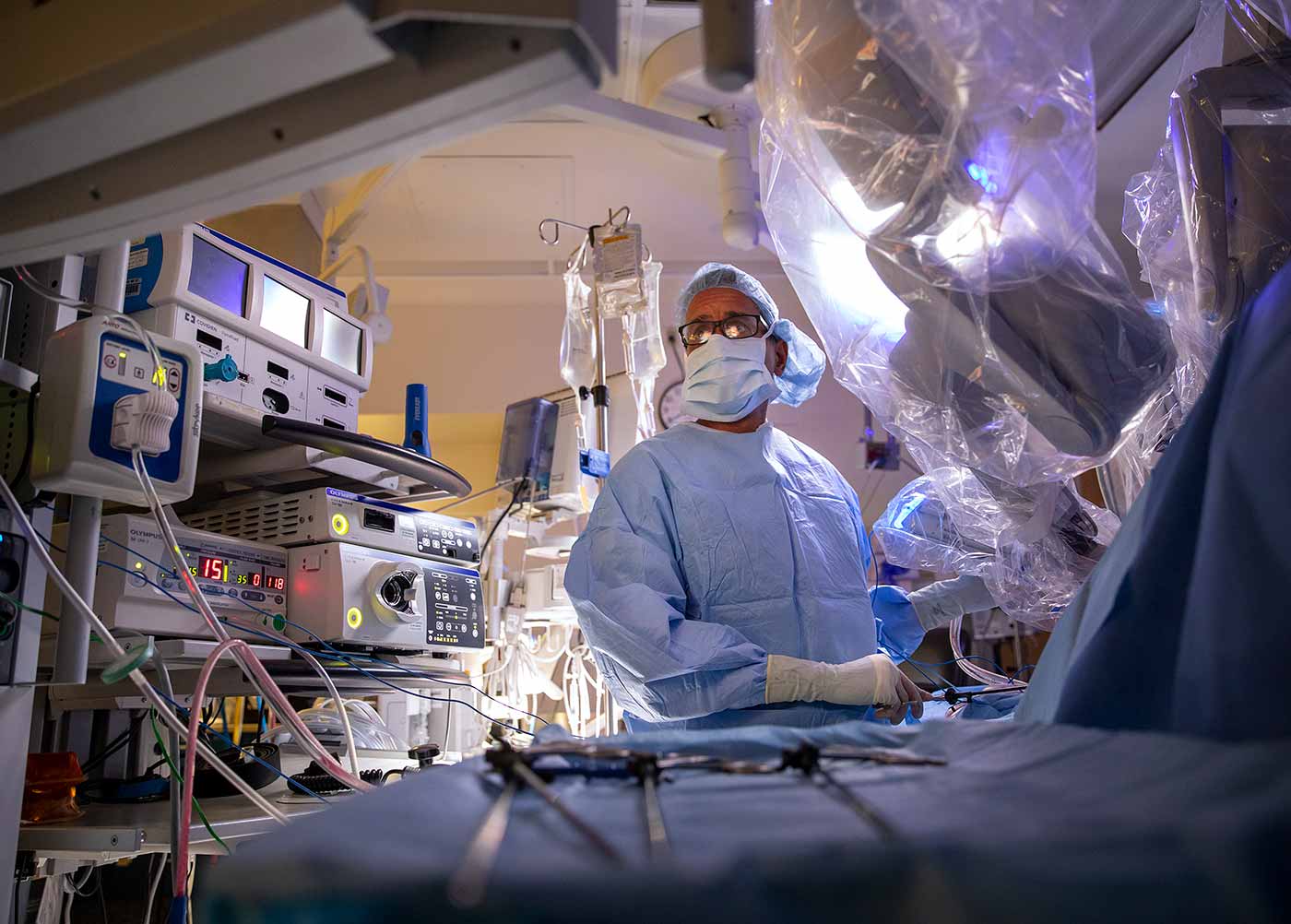 Development of the new postoperative pathways for urology patients began in 2017, when Hershey Medical Center joined the Pennsylvania Urologic Regional Collaboration (PURC). Through the PURC, Hershey Medical Center and other member facilities now have access to metrics from across the collaborative. This empowers physicians to evaluate the efficacy of various practices and use this information to develop new best practices within their own institution.
WHERE THE PATHWAYS STAND
To create appropriate pathways, day-by-day expectations and goals were scripted, per index operation. Whereas patients previously went home in a varying range of hours or days following prostate or kidney cancer surgery, their pathway is now mapped out with greater precision. Firm goals in place regulate postoperative ambulation and pain control. Postsurgical laboratory work is performed on a tight schedule only when needed. Furthermore, patients no longer scramble to fill prescriptions after leaving the hospital. Instead, the in-house pharmacy automatically fills their first prescription.
"Some patients, due to a response to the surgery or complication, deviate from the pathway," Dr. Raman says. "Having solid pathways helps you recognize those patients who are having issues sooner than we did before, which enables us to act on it at an earlier phase. Previously, we may not have realized a patient was experiencing an adverse outcome until later in the day. Now, as soon as something falls out of sync, we ask questions, perform lab tests or imaging exams and do whatever else needs to be done to get to the root of the issue and return the patient to the pathway as quickly and safely as possible."
Should modifications not provide the intended result, previous protocols are reinstated. For instance, several years ago, a medication to help with bowel recovery was incorporated into the postoperative pathway to improve patient recovery. When tracking outcomes, however, researchers determined the medication did not provide the benefit in this population, while adding cost to the patient. It, therefore, was removed from the pathway.
Each aspect of a pathway undergoes the same rigorous evaluation, maintaining strategies that work and jettisoning those that prove less valuable. By successive iteration, Hershey Medical Center urology patients experience increasingly positive results, and their experiences translate to improvement in urology care as a whole.
"From a public health standpoint, all 13 members of the PURC want patients to have the best possible outcome, regardless of where they turn for medical care," Dr. Raman says. "By sharing what we're doing, we join together to develop and hone postoperative pathways, which is a powerful means to improving patient care."
This article first appeared in Central Pennsylvania MD News September 28, 2021.
Interim Chair, Department of Urology
Professor, Department of Urology
Head, Robotic Surgery
Professor, Department of Surgery, Penn State Cancer Institute
Phone: 717-531-8887
Email: jraman@pennstatehealth.psu.edu
Fellowship: Urology, University of Texas Southwestern Medical Center, Dallas
Residency: General Surgery, New York-Presbyterian Weill Cornell Medical Center, New York; Urology, New York-Presbyterian Weill Cornell Medical Center, New York
Medical School: Weill Cornell Medicine/Cornell University, New York
Connect with Jay D. Raman, MD, on Doximity