Studies reveal low incidence of bleeding and other complications following transrectal prostate needle biopsy
Prostate needle biopsy (PNB) is one of the most common procedures performed by urologists, with more than a million performed in the United States every year. In most cases, prostate biopsies are conducted using a transrectal approach with ultrasound guidance. Although much recent data focuses on infections related to transrectal PNB, little exists on non-infectious complications.
Researchers at Penn State Health recently participated in a statewide study conducted by the Pennsylvania Urologic Regional Collaboration (PURC) analyzing the incidence of non-infectious complications following transrectal PNB.
"Although prostate needle biopsy is an outpatient procedure, it does have inherent complications," said Dr. Jay Raman, interim chair of urology at Penn State Health Milton S. Hershey Medical Center and professor of surgery at Penn State College of Medicine. "The goal of the study was to identify the types of complications that can happen, determine the factors associated with them and develop ways to decrease the likelihood of these complications."
Illuminating results
The study compiled data from 8,102 prostate biopsies performed at 12 different academic medical centers across Pennsylvania between 2015 and 2018. The results underscored the safety of the procedure, with 96.6% of patients experiencing no complications.1
"As a baseline, 96 out of 100 people having a prostate biopsy will do quite well," Raman said. "But when it comes to complications, the focus has generally been on infections. Interestingly, what we found was that other complications are about 2 1/2 times more common than infection. That was eye-opening."
Of the 8,102 biopsies in the study, 277 (3.4%) led to complications, including 78 infectious and 199 non-infectious ones. The most common non-infectious events included urinary or rectal bleeding (0.9%) and urinary retention (0.9%). Less common complications included vasovagal syncope (0.2%) and severe pain (0.1%).1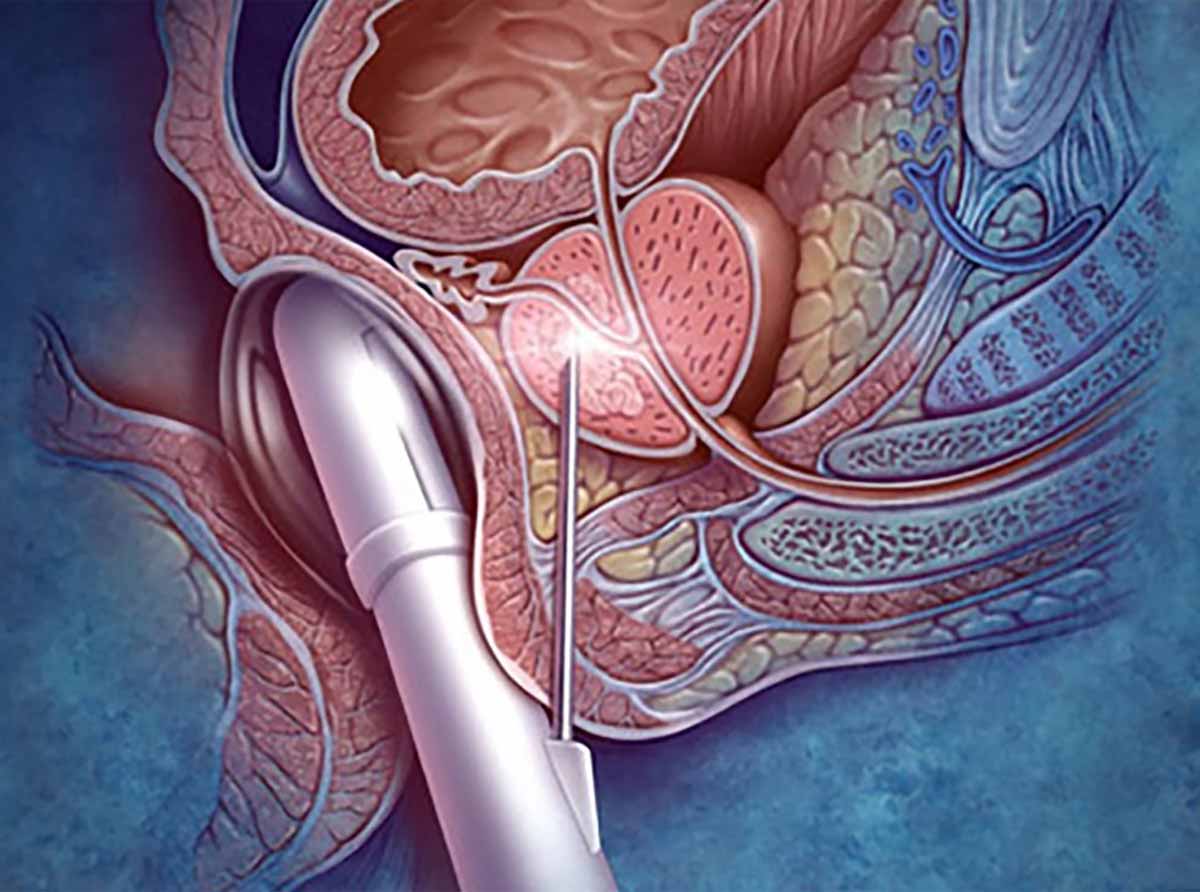 Focus on bleeding complications
The study results prompted Raman and his team at the Milton S. Hershey Medical Center to take a closer look at additional data on bleeding complications that resulted from prostate biopsies.
"One of the challenges when looking at data from a large number of facilities is that you don't have the ability to look at specifics and say, what could we do differently? How could we change our practice?" Raman said. "We looked at specific information on bleeding issues and determined the only patients that really had significant issues were those who were on blood thinners who either didn't or couldn't stop for the procedure."
Specifically, the data reviewed was from 2,402 PNB procedures.2 Among patients who experienced bleeding complications, many were taking the following:
Chronic anti-coagulation therapy (755 (31%), including 81 mg aspirin (570; 75%)
Aspirin at doses higher than 81 mg (78; 10%)
Warfarin (57; 8%)
Clopidogrel (44; 6%)
Enoxaparin (3; 0.3%)
Dipyridamole (3, 0.3%)
In total, significant bleeding occurred in 65 of the 2,402 PNB procedures (2.7%). Of these, 54 resolved spontaneously without the need for an in-person medical visit. Eleven required emergency department visits and/or hospital admission, with nine resolved after conservative methods, including catheterization and irrigation, observation and fluid administration. Out of the entire cohort, two (.08%) required an ancillary surgery to resolve the bleeding.2
"This again highlights the overall safety of the procedure," Raman said. "Only about a half of a percent of patients had to come back to the hospital for bleeding issues, and only two people out of more than 2,400 had to go to the operating room again. However, these results also show that for patients on blood thinners, if there's a way they can stop taking them prior to the procedure, that's critical."
Improving patient safety
The team is now using the information gathered from both studies to further improve the safety of transrectal PNB procedures.
"Although our noninvasive tools and blood tests are getting better, a biopsy is the only way to really know if a patient has cancer and how aggressive the cancer is," Raman said. "That means transrectal PNB is a part of our practice that will remain. With this type of procedure, a critical component is being able to counsel patients on their risk."
In addition to patient counseling, doing a thorough evaluation of the medications a patient is taking before they undergo a biopsy is essential.
"Specifically, we need to look at what type of blood thinner a patient is taking and what the purpose is of the medication," Raman said. "It's also critical to speak with the provider who manages the blood thinner to determine if stopping is an option. Because we know if there is a way to stop, that will make the procedure safer."
Learning and looking ahead
Raman is hopeful the study results will help decrease the incidence of bleeding complications from PNB similarly to the way infection rates have decreased.
"About eight years ago, we had a much bigger problem with infections," he said. "We identified our rate, determined what factors were involved and changed our practice pattern to tackle the issue."
Today they use swabs to culture currently used antibiotics to determine whether a patient is resistant, along with antiseptic at the time of the biopsy to decrease microorganism counts. By implementing these practices, infection rates dropped from 5.5% to 0.9%.
"By looking at one's own data and modifying practice based upon that, you can improve patient counseling and decrease complications," Raman said. "We can make an already common, generally safe procedure even safer."
Interim Chair, Department of Urology
Professor, Department of Urology
Head, Robotic Surgery
Professor, Department of Surgery, Penn State Cancer Institute
Phone: 717-531-8887
Email: jraman@pennstatehealth.psu.edu
Fellowship: Urology, University of Texas Southwestern Medical Center, Dallas
Residency: General Surgery, New York-Presbyterian Weill Cornell Medical Center, New York; Urology, New York-Presbyterian Weill Cornell Medical Center, New York
Medical School: Weill Cornell Medicine/Cornell University, New York
Connect with Jay D. Raman, MD, on Doximity
References:
Sosenko A, Owens RG, Yang AL et al. Non-infectious complications following transrectal prostate needle biopsy–outcomes from over 8000 procedures. Prostate International. 2022;10(3):158-161.doi:10.1016/j.prnil.2022.04.002.
Fuletra J, Rjepaj C, Clark JY et al. Significant bleeding complications following transrectal prostate needle biopsy: incidence, predictors, and management. Urology Practice. 2023;10(1):6-8. doi: 10.1097/UPJ.0000000000000349.