When is Robotic Minimally Invasive Surgery the Approach of Choice?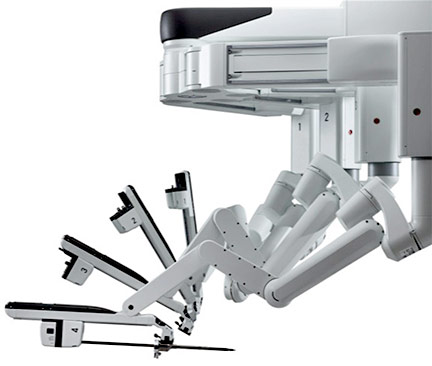 A 42 year-old woman presents in the outpatient obstetrics and gynecology clinic with severe, uncontrolled pelvic pain, painful bowel movements, and constipation. The patient has a history of stage IV endometriosis and had conceived via in-vitro fertilization (IVF). The patient now desires definitive therapy; she has completed childbearing and she had unsuccessful medical management of her symptoms with oral contraceptives and a progestin IUD. Recent ultrasound revealed a large endometrioma in the right ovary. Colonoscopy results indicated deep endometriosis of the sigmoid colon.
Stephanie Estes, M.D., of Penn State Hershey Obstetrics and Gynecology says, "In complex cases like this, a minimally invasive surgical procedure using robotic technology in a single operation offers the best odds for success, both procedurally and with a good recovery. A gynecologic surgeon would begin with a hysterectomy, and then a colorectal surgeon would resect the affected portion of sigmoid colon en bloc, to complete the procedure." Estes continues, "With the robotic surgical tools we use, there is definitely better dexterity and enhanced 3D visualization of tissue and organs, compared to an open abdominal approach. This minimally invasive approach is really key for complex cases with widespread pathology, to avoid injury to delicate surrounding tissues."
The robotics program Estes leads at Penn State Hershey Obstetrics and Gynecology includes surgeons trained robotically in gynecologic oncology, urogynecology, minimally invasive gynecology, and reproductive endocrinology and infertility. More than five years ago (2009), a minimally invasive gynecology fellowship was initiated and has grown to include four providers (including Estes) and two fellows who complete a two-year training program. This group of surgeons performed nearly 550 robotic gynecologic procedures in the 2013-14 fiscal year and 1,300 procedures overall at Penn State Hershey. In fact, 95 percent of hysterectomies at Penn State Hershey are conducted either laparoscopically or robotically compared to the national average of 60 percent.¹
Penn State Hershey's minimally invasive gynecology division is also actively conducting a number of research projects to evaluate both acute and long-term patient outcomes following a variety of robotic minimally invasive surgical procedures, based on internal review board-approved research protocols.
Penn State Hershey is proud of its robust robotics program for its gynecologists, as well as the breadth and depth of experience it offers for other surgical services performing robotic procedures. Specialties such as urology, colorectal surgery, and general surgery can accomplish procedures in a minimally invasive, novel fashion with a combined robotic surgical approach.
"Using a traditional approach (versus minimally invasive) for the patient referenced in this article would require two separate surgeries, beginning with a hysterectomy. After sufficient post-operative recovery, she would then need to undergo colon resection," explains Estes. For each open procedure, the patient faces significant post-operative pain, blood loss, risk of infection, and other surgery-related complications. "Overall recovery time would be lengthy, and return to work and normal activities would be slow," says Estes. Pain, blood loss, complication risk, and recovery time all tend to be lessened with minimally invasive techniques.¹,² For third-party payers, these advantages can translate into significant cost savings; for patients, an easier recovery and quicker return to normal daily life.
For a complex case such as this, finding a provider with extensive experience with minimally invasive robotic surgery experience can be challenging. Says Estes, "These tools aren't yet widely used at many local or regional hospitals. Often only one or two providers at any given site are trained in their use." Major challenges for their increased use are the need for extensive surgical training and gaining experience with a large number of cases. For many providers with an established practice, completing such training isn't feasible. The robotic surgery program at Penn State Hershey is unique in that the provider group is large, crosses several disciplines, and handles a large volume of cases, allowing this team to develop a high level of skill to treat the most complex cases.
---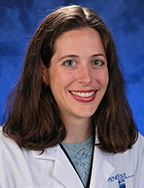 Stephanie Estes, M.D.
Medical Director of Robotic Surgical Services, Penn State Milton S. Hershey Medical Center Associate Professor, Reproductive Endocrinology, Penn State Hershey Obstetrics and Gynecology
PHONE: 717-531-3503
E-MAIL: sestes@hmc.psu.edu
FELLOWSHIP: Reproductive Endocrinology, Brigham & Women's Hospital
RESIDENCY: OB/GYN, Abington Memorial Hospital
MEDICAL SCHOOL: Penn State College of Medicine
---
REFERENCES:
1 Warren L, Ladapo JA, Borah BJ, et al. 2009. Open abdominal versus laparoscopic and vaginal hysterectomy: analysis of a large United States payer measuring quality and cost of care. J Minim Invasive Gynecol. 16:581-588.
2 Kongwattanakul K, and Khampitak, K. 2012. Comparison of laparoscopically assisted vaginal hysterectomy and abdominal hysterectomy: a randomized controlled trial. J Minim Invasive Gynecol. 19:89-94.