TRUCLEAR 5C System Expands Office Hysteroscopy Treatment Options
Over the last several decades, significant progress in both technique and instrumentation has turned hysteroscopy into a common outpatient procedure for treatment, as well as diagnosis.1 Penn State Health Milton S. Hershey Medical Center has offered outpatient hysteroscopy for seven years, and recently acquired a more advanced type of instrumentation, the TRUCLEAR 5C System. The new system allows specialists to perform procedures in the office that would have previously required surgery, along with its associated risks. "This is a 'see and treat' model," says Stephanie Estes, MD, director of robotic surgical services and associate professor, reproductive endocrinology and infertility. "With it, I can do full operative procedures in the office, not just small polypectomies and the removal of malpositioned IUDs, but also larger polypectomies and adhesion resections, as well as myomectomies."
According to Dr. Estes, patients experience many benefits from this new technology, not the least of which is avoiding the nausea that often follows anesthesia with surgical treatment in the OR. Further, time is saved, as in-office procedures can be performed within an hour from patient arrival to patient check-out (typically less than 30 minutes), as opposed to hours of preparation and recovery with OR procedures. The majority of patients are candidates for hysteroscopic procedures. Many types of abnormal pathologies can be treated hysteroscopically, including polyps and fibroid tumors, the two most common. More than 80 percent of patients in one study expressed satisfaction with in-office hysteroscopic procedures versus same-day surgical hysteroscopic procedures.2 Further, 78 percent of patients in the in-office hysteroscopy group reported less pain from the procedure compared to menstrual pain.2
"Outpatient hysteroscopy is a good option for many patients," Dr. Estes concludes. "It allows them to return to normal activities in a very short time with minimal discomfort. It's also a good opportunity for clinicians to offer a low-risk procedure, as well as enabling them to be more responsive to the changing needs of their patients." She is encouraged by her own experience with the new device which, to date, has seen a 100 percent success rate with no complications.
---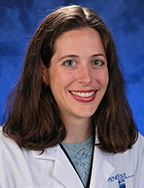 Stephanie Estes, MD
Director of Robotic Surgical Services
Associate Professor, Reproductive Endocrinology and Infertility
PHONE: 717-531-8478
EMAIL: sestes@PennStateHealth.psu.edu
FELLOWSHIP: Reproductive endocrinology, Brigham and Women's Hospital, Boston, Mass.
RESIDENCY: Obstetrics and gynecology, Abington Memorial Hospital, Abington, Pa.
MEDICAL SCHOOL: Penn State College of Medicine, Hershey, Pa.
Connect with Stephanie Estes, MD, on Doximity
---
References:
Gambadauro P, Navaratnarajah R, and Carli V. Anxiety at outpatient hysteroscopy. Gynecol Surg. 2015; 12(3): 189–196.
Kremer C, Duffy S, and Moroney M. Patient satisfaction with outpatient hysteroscopy versus day case hysteroscopy:randomised controlled trial. BMJ. 2000 Jan 29; 320(7230): 279–282.