Novel Research Rotation Prepares Future Researchers and Clinicians
While many institutions have a general research requirement for residents, few have formally defined it. Beginning in 2016, however, all Penn State Health Milton S. Hershey Medical Center OBGYN residents are required to complete an officially sanctioned rotation on a self-developed research question. This rotation is overseen by Timothy Deimling, MD, director of resident research and assistant program director, fellowship in minimally invasive gynecology surgery, and Rebecca Phaëton, MD, assistant director of resident research. The research rotation helps each resident develop projects and identify mentors who are experts in their respective fields, and comprises two five-week blocks beginning in the resident's second year. The ultimate goal is that each resident presents a publication-ready manuscript.
This was prompted by Dr. Deimling's own experience as a resident; a research requirement frequently lacked dedicated time to develop that research. This reflects a common dilemma in medical education; clinical needs are prioritized at the expense of the more long-term research projects. As a Center of Excellence in the advancement of women's health, Penn State Obstetrics and Gynecology has created this dedicated rotation to emphasize the importance of research, as well as the more widely recognized requirements of hands-on, clinical practice. The program is expected to expand, with measurement of future publication rates to mark its success.
At the beginning of the first five-week block, residents are charged with developing research questions based on their own interests. Dr. Deimling and Dr. Phaëton offer guidance as the residents develop their research questions. A key component of the program is that residents drive all research questions. Current projects are focused on the impact of pre-pregnancy obesity on health care resource utilization, post-operative pain control in women undergoing Caesarian section, disparities in the use of long-acting reversible contraception based on ease-of-access, and the impact of hysterectomy on long-term female sexual function. Dr. Deimling believes this rotation will have a positive impact on the type and quality of studies originating at Hershey Medical Center.
Dr. Deimling and Dr. Phaëton oversee project logistics, such as obtaining Institutional Review Board (IRB) approval and ensuring that all findings are appropriately documented. In addition, both physicians tailor each student's project to his or her own level of interest in research, recognizing that some residents' career goals are more clinical in nature, while others have already determined a more academic focus.
Dr. Deimling concludes, "This program demonstrates the resurgent commitment of Hershey Medical Center to develop future academic medical leaders who will develop and investigate novel ideas as medicine moves forward."
---
Timothy Allen Deimling, MD, MS
Assistant Professor, Obstetrics and Gynecology
Director of Resident Research
Assistant Program Director, Fellowship in Minimally Invasive
Gynecology Surgery
PHONE: 717-531-6447, Option 5
E-MAIL: tdeimling@PennStateHealth.psu.edu
FELLOWSHIP: Minimally invasive gynecologic surgery, Penn State Health Milton S. Hershey Medical Center, Hershey, Pa.
RESIDENCY: Obstetrics and gynecology, Penn State Health Milton S. Hershey Medical Center, Hershey, Pa.
MEDICAL SCHOOL: Penn State College of Medicine, Hershey, Pa.
Connect with Timothy Deimling, MD on Doximity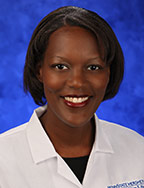 Rebecca Phaëton, MD
Assistant Professor, Gynecologic Oncology, Penn State Cancer Institute
Assistant Director of Resident Research
PHONE: 717-531-3503
E-MAIL: rphaeton@PennStateHealth.psu.edu
FELLOWSHIP: Gynecologic oncology, Montefiore Medical Center and Albert Einstein College of Medicine, Bronx, N.Y.
RESIDENCY: Obstetrics and gynecology, Hospital of the University of Pennsylvania, Philadelphia, Pa.
MEDICAL SCHOOL: Marshall University School of Medicine, Huntington, W.Va.
---