New Evidence Supports Value of Preconception Weight-Loss for PCOS Patients
Until recently, specialists treating obese women with polycystic ovary syndrome (PCOS) have lacked research-based evidence to support the theory that weight-loss prior to fertility treatments may improve ovulation and, ultimately, live births. The topic had not been extensively studied, and most advice was from clinicians' "common knowledge" that weight-loss prior to conception is beneficial. However, a recent study published in The Journal of Clinical Endocrinology & Metabolism1 now provides the clinical evidence to support that guidance. Richard S. Legro, MD, reproductive endocrinologist, Penn State Health Milton S. Hershey Medical Center, led the team that conducted a secondary analysis of two randomized trials to evaluate various approaches.1 They compared outcomes from the Pregnancy in Polycystic Ovary Syndrome II (PPCOS II) trial (n=187 women) of immediate treatment with clomiphene to outcomes from the treatment of Hyperandrogenism versus Insulin Resistance in Infertile PCOS Women (OWL PCOS) trial (n=142 women) of delayed treatment with clomiphene after preconception treatment with oral contraceptives, lifestyle modification or the combination of both.1
Participants from the OWL PCOS trial in the lifestyle group and combined group had a 2.5-fold increase in live births compared with immediate treatment with clomiphene in the PPCOS II trial (p=0.01).1 Compared with the immediate treatment in PPCOS II, the lifestyle group (p=.003) and combined group (p<.001) from OWL PCOS had a 1.4-fold increase in cumulative ovulation rate.1 No significant difference existed in live births or ovulation rates in participants from OWL PCOS who received preconception treatment with oral contraceptives and participants with immediate treatment from PPCOS II, nor did a difference exist for pregnancy loss between any of the groups.1
Dr. Legro hopes these results will improve research funding prioritization as governmental agencies recognize the potential public health impact of having verifiable data to support "common sense" hypotheses. In addition, this study facilitates a doctor-patient discussion of the benefit of preconception weight-loss in obese patients with PCOS. "It's now possible to point to this data and tell our patients definitively that obese women with PCOS do much better – two- to three-fold better – with getting pregnant and delivering a baby, if they take some time to lose weight and improve fitness beforehand," concludes Legro. "That's a pretty significant motivator."
---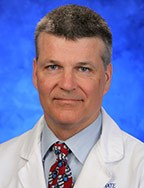 Richard S. Legro, MD, FACOG
Professor, Vice Chair of Research, Reproductive Endocrinology
PHONE: 717-531-8478
EMAIL: rlegro@PennStateHealth.psu.edu
FELLOWSHIP: Reproductive endocrinology, University of Southern California – Berkley/Keck School of Medicine, Los Angeles, Calif.
RESIDENCY: Obstetrics and gynecology, Magee-Women's Hospital, University of Pittsburgh, Pittsburgh, Pa.
MEDICAL SCHOOL: Icahn School of Medicine at Mount Sinai, New York, N.Y.
Connect with Richard S. Legro, MD, on Doximity
---
Reference:
Legro RS, Dodson WC, Kunselman AR, Stetter CM, Kris-Etherton PM, Williams NI et al. Benefit of delayed fertility therapy with preconception weight loss over immediate therapy in obese women with PCOS. J Clin Endocrinol Metab; March 15, 2016:1-9.