Preclinical Findings Lay the Groundwork for Translational Research Program in Cervical Cancer
"Cervical cancers bear a viral antigen fingerprint that can serve as a target for radioimmunotherapy [RIT] that specifically destroys malignant tumor cells," says Rebecca Phaëton, M.D., of Penn State Hershey Obstetrics and Gynecology. More than 95 percent of human cervical cancers express human papilloma virus (HPV) oncoproteins E6 and E7 (E=early transformation), which herald the beginning of malignant growth sequences. E6 and E7 are necessary for the malignant transformation and without their presence HPV would be incapable of being cancerogenic. In vitro and in vivo, proliferation of human cervical cancer cells reliably expressing E6 and E7 oncoproteins is significantly inhibited by C1P5, a murine monoclonal antibody (mAB) against E6.¹ Phaëton's research, conducted with colleagues while a fellow at Albert Einstein College of Medicine, Montefiore, New York, demonstrated the ability of twenty μCi of the beta-emitting 188Rhenium-labeled C1P5 (i.p.) to selectively accumulate within HPV-16 positive human cervical cancer tumor cells in adult mice and to suppress tumor growth for up to twenty days after treatment.2,3 "Rhenium-labeled C1P5 accumulated in the cervical cancer cells of the mice, with limited to no accumulation in the liver, kidneys, and bone marrow. There was no sign of neutropenia in any of the subjects," reports Phaëton. As shown in the diagram below, cross-linking C1P5, which targets intranuclear E6 with the beta-emitting 188Rhenium creates a chain reaction of cell death that may allow treatment to penetrate deep within the tumor.
Phaëton's research has provided proof of concept for the first potentially clinically useful RIT strategy in cervical cancer, showing both tumor suppression and limited toxicity. She is enthusiastic about the prospects of bringing this approach to the clinic, in continued collaboration with colleagues at Albert Einstein College of Medicine, saying, "These pre-clinical findings are the basis for a Phase 1 trial grant proposal which has been submitted, to evaluate RIT using 188Rhenium-labeled C1P5, using a dose-escalation, dose-finding scheme in women with metastatic or recurrent cervical cancer." If approved for support, the trial is anticipated to be initiated in 2015.
Currently, RIT targeting membrane-bound antigens is approved by the United States Food and Drug Administration for the treatment of recurrent or refractory non-Hodgkin's lymphoma. A major challenge with use of RIT for cervical cancer is the fact that the viral antigens are located intracellularly. "Even though the target antigen is sequestered within the nucleus, this approach works because tumors contain many nonviable, necrotic cells with permeable membranes," says Phaëton. When the Rhenium-labeled C1P5 binds to its E6 target in a necrotic cell, beta emission of radionuclide destroys nearby viable cells, in turn allowing additional antibody-target binding. Phaëton and colleagues have found that injection of the proteasome inhibitor MG132 prior to 188Rhenium-labeled C1P5 treatment increases antibody accumulation within the tumor by two-fold, potentially boosting cytotoxicity.²
As part of Penn State Hershey Cancer Institute, Phaëton joins colleagues who are conducting research in more than 140 ongoing clinical trials. With its extensive base of expertise, the Cancer Institute also serves as a valuable resource for patient recruitment and management, bringing the opportunity to participate in the planned cervical cancer trial to women in the central Pennsylvania region and beyond. Other Cancer Institute researchers using similar advanced technologies, who are also exploring antigen-targeting treatment strategies in clinical trials, may help to more rapidly translate Phaëton's RIT approach to cervical cancer treatment. In addition, there is potential for Phaëton's collaboration with these colleagues in the future to expand this RIT approach to other virus-related cancers, as well.
Phaëton, who joined Penn State Hershey in the fall of 2014 to establish her own research program, plans to conduct additional pre-clinical investigations using a combination of antibodies to target both E6 and E7.
---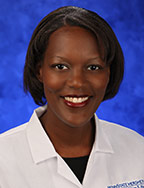 Rebecca Phaëton, M.D.
Assistant Professor, Gynecologic Oncology, Penn State Hershey Obstetrics and Gynecology
PHONE: 717-531-3503
E-MAIL: rphaeton@hmc.psu.edu
FELLOWSHIP: Gynecologic Oncology, Montefiore Medical Center and Albert Einstein College of Medicine (New York)
RESIDENCY: Obstetrics and Gynecology, Hospital of the University of Pennsylvania
MEDICAL SCHOOL: Marshall University School of Medicine (West Virginia)
---
REFERENCES:
1 Wang XG, Revskaya E, Bryan RA, et al. 2008. Treating cancer as an infectious disease: Viral antigens as novel targets for treatment and potential prevention of tumors of viral etiology. PLoS ONE. 2:e1114.
2 Phaëton R, Wang XG, Einstein MH, et al. 2010. The influence of proteasome inhibitor MG132, external radiation and unlabeled antibody on the tumor uptake and biodistribution of 188Rhenium-labeled anti-E6 C1P5 antibody in cervical cancer in mice. Cancer. 116:1067-1074.
3 Phaëton R, Harris M, Jiang Z, et al. 2010. Radioimmunotherapy with an antibody to HPV16 E6 oncoprotein is effective in experimental cervical cancer tumor expressing low levels of E6. Cancer Biol Ther. 10:1041-1047.