Lynch Syndrome Screening is Routine in Women with New Endometrial Cancer Diagnosis, Regardless of Age
Lynch syndrome, often called hereditary nonpolyposis colorectal cancer (HNPCC), is an autosomal dominant mutation affecting the mismatch repair system that leads to nearly 80 percent of affected individuals developing one or more types of cancer during their lifetime. In women, the most frequently observed cancers are colorectal, endometrial and ovarian. Two to 3 percent of all endometrial cancer cases are related to Lynch syndrome; Lynch syndrome-related cases of endometrial cancer emerge 10 to 15 years earlier than in sporadic cases.
According to Joshua Kesterson, M.D., Obstetrics and Gynecology, "Previously, we screened for Lynch syndrome by assessing personal and family history." Penn State Health Milton S. Hershey Medical Center's screening program is in line with the 2014 American College of Obstetricians and Gynecologists (ACOG) and Society of Gynecologic Oncologists (SGO) recommendations for Lynch syndrome screening.¹ Dr. Kesterson explains, "We are now transitioning to universal screening, where all women with newly diagnosed endometrial cancer are screened for Lynch syndrome." As noted in the ACOG/SGO recommendations, this is the most sensitive approach for accurate detection of Lynch syndrome cases, with the least risk of false negatives.¹
Screening involves a detailed medical and family history with biopsied tumor tissue immunohistochemically (IHC) labelled for mismatch repair system proteins produced by genes that are typically mutated in Lynch syndrome. In patients with Lynch syndrome, expression and labelling of these proteins is absent or dramatically decreased in sampled tumor tissue Dr. Kesterson notes, "IHC labelling of tissue samples can help us identify patients who may have a specific germline mutation." If IHC labelling is suggestive of a mutation, then germline testing is performed, using a blood sample or cheek swab to directly look for mismatch repair system mutations in the patient's DNA. "Mutations in the MLH1 and MSH2 genes are the most common and seem to confer a significant lifetime risk of colorectal, endometrial and ovarian cancer," Dr. Kesterson continues. Other types of cancer associated with Lynch syndrome include, but are not limited to, that of the small bowel, pancreas, stomach and sebaceous glands.
Women with a positive Lynch syndrome diagnosis receive genetic counseling and other family members may be tested. Clinically, patients with Lynch syndrome often report a family history of early-onset colorectal cancer (before 50 years of age), synchronous, multiple cancers in one family member, or a cluster of Lynch-related cancers amongst family members. Lynch syndrome patients are recommended to undergo regular screening for colorectal and endometrial cancer. Dr. Kesterson adds, "Aggressive cancer screening, prophylactic surgery and early detection can be lifesaving for these patients." To reduce morbidity and mortality, Lynch syndrome patients are recommended to undergo screening colonoscopies, receive an endometrial biopsy every one to two years beginning at age 30 to 35 years, receive ultrasounds to screen for ovarian cancer, and consider a prophylactic hysterectomy and bilateral salpingo-oophorectomy at the completion of childbearing, thus eliminating risk of ovarian and endometrial cancers.
---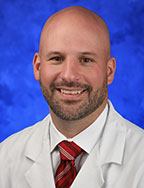 Joshua P. Kesterson, M.D., FACOG
Associate Professor, Obstetrics and Gynecology
Chief, Gynecologic Oncology
PHONE: 717-531-8144
E-MAIL: jkesterson@hmc.psu.edu
FELLOWSHIP: Gynecologic Oncology, Rosewell Park Cancer Institute, Buffalo, N.Y.
RESIDENCY: Obstetrics and Gynecology, University of Louisville Medical Center, Louisville, Ky.
MEDICAL SCHOOL: University of Missouri – Columbia School of Medicine, Columbia, Mo.
Connect with Joshua Kesterson, M.D. on Doximity
---
REFERENCE:
American College of Obstetricians and Gynecologists. 2014. Lynch Syndrome Practice Bulletin. Obstet Gynecol. 124: 1042-1054.