Letrozole: New Oral Fertility Option for Women with Polycystic Ovary Syndrome (PCOS)
In the Pregnancy in Polycystic Ovary Syndrome II (PPCOS II)¹ clinical trial, the aromatase inhibitor letrozole (Femara) demonstrated significantly greater rates of ovulation, conception, pregnancy, and live birth, compared with the selective estrogen receptor modulator clomiphene citrate (Clomid) when given for up to five menstrual cycles in women with PCOS (Figure). The main findings of PPCOS II were published in the New England Journal of Medicine last summer (2014).¹ The trial, initiated and led by Richard Legro, M.D., of Penn State Hershey Obstetrics and Gynecology, sought to identify and compare safer, more cost-effective, oral infertility treatments that could be used as first-line options for women with PCOS. Both treatments were fairly well tolerated; the most common adverse events were hot flushes (clomiphene), dizziness, and fatigue (letrozole).
According to Legro, "One of the most encouraging findings in PPCOS II was that the twin pregnancy rate trended lower with letrozole (3.4) versus clomiphene (7.4), and there were no higher order pregnancies with either treatment." Penn State Hershey was the lead enroller for the PPCOS II trial, which included 750 women participants at eleven sites in the United States that participate in the Reproductive Medicine Network of the National Institute of Child Health and Human Development. The results have led providers at Penn State Hershey to now consider letrozole as a first-line option for treatment of infertility in women with PCOS.
Legro expects the findings to have a broad impact on national and international PCOS treatment guidelines: "I expect that as treatment guidelines are updated, letrozole will be recommended as a first-line option, based on the strength of PPCOS II findings." PPCOS II participants and their infants have the opportunity to enroll in a PCOS patient registry, to evaluate long-term safety of the treatment they received. Legro adds, "Future trials may evaluate second-line treatment regimens for women who do not respond to letrozole monotherapy; this will likely include a combination of letrozole and another agent having a different mechanism of action."
---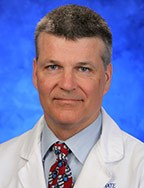 Richard S. Legro, M.D., FACOG
Professor, Vice Chair of Research, Reproductive Endocrinology, Penn State Hershey Obstetrics and Gynecology
PHONE: 717-531-8478
E-MAIL: rlegro@hmc.psu.edu
FELLOWSHIP: Reproductive Endocrinology, University of Southern California – Berkley/Keck School of Medicine
RESIDENCY: OBGYN, Magee-Women's Hospital, University of Pittsburgh
MEDICAL SCHOOL: Mount Sinai School of Medicine of NY University
---
REFERENCE:
1 Legro RS, Brzyski RG, Diamond MP, et al. 2014. Letrozole versus clomiphene for infertility in the polycystic ovary syndrome. N Engl J Med. 371:119-29.