Group Prenatal Care: Centering Pregnancy
Most pregnant women receive one-on-one prenatal care from their OB provider, but a group-care model has shown increasing promise and is becoming more widely available. Danielle Hazard, M.D., of Penn State Hershey Obstetrics and Gynecology, explains: "We offer a group prenatal care program called Centering Pregnancy. This model integrates three important components of care: health assessment, education, and support. During the group sessions, ten to twelve pregnant patients, all due around the same time, participate in a facilitated discussion focused on health-promoting behaviors, complete their standard physical health assessments, and develop a support network with other group members. The group discussions provide a dynamic environment for learning and sharing that is impossible to create in a one-on-one encounter."
The group-centered care approach, developed by midwife and nurse, Sharon Schindler Rising in the 1990s, is currently supported by the nonprofit Centering Healthcare Institute (CHI), which trains physicians to implement standardized group-based prenatal care programs throughout the United States (centeringhealthcare.org).
Initiated at Penn State Hershey in 2009, the Centering Pregnancy program gained CHI site approval in 2011, and is among only six sites in Pennsylvania.
"Since 2011, approximately 250 women have participated in the Penn State Hershey Centering Pregnancy program, and have provided a lot of positive feedback. Women are pleased that they don't spend time in a waiting room, they seem to enjoy the social aspect of the sessions, and they feel they receive meaningful prenatal education," said Hazard.
Continuity of care is a strong focus of the program, providing an ideal experience for medical students. Penn State College of Medicine students can choose to participate in Centering Pregnancy for their medical home longitudinal (MHL) curriculum. They follow a group of women throughout their pregnancy providing students a unique learning environment and an opportunity to help guide patients through the complex social, emotional, and physical challenges encountered during the various stages of pregnancy.
The March of Dimes provides funding to Penn State Hershey and other sites across Pennsylvania to more closely evaluate the impact of group-centered care on pregnancy outcomes. Research is currently underway to evaluate outcomes for Penn State Hershey's mainly suburban/rural patient population, compared to the broader CHI participant population predominantly comprised of urban women. "Previous research on the Centering Pregnancy approach suggests that outcomes may be improved, with lower risk of preterm delivery," explains Hazard.1,2 "We're very interested to more closely examine results at our Centering Pregnancy sites with the hopes of proving that this care approach is effective across a wide patient demographic.
---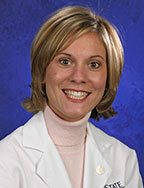 Danielle B. Hazard, M.D., FACOG
Assistant Professor, Penn State Hershey Obstetrics and
Gynecology, Division of Women's Health
717-531-3503
RESIDENCY: OB/GYN, Penn State Milton S. Hershey Medical Center
MEDICAL SCHOOL: Penn State College of Medicine (2004)
BOARD CERTIFICATION: Obstetrics and Gynecology
---
REFERENCE:
1 Ickovics JR, Kershaw TS, Westdahl C, Rising SS, Klima C, Reynolds H, Magriples U. Group prenatal care and preterm birth weight: results from a matched cohort study at public clinics. Obstet Gynecol. 2003 Nov;102(5 Pt 1):1051-7.
2 Ickovics JR, Kershaw TS, Westdahl C, Magriples U, Massey Z, Reynolds H, Rising SS. Group prenatal care and perinatal outcomes: a randomized controlled trial. Obstet Gynecol. 2007 Aug;110(2 Pt 1):330-9.