Thromboembolism Prophylaxis is Under-prescribed in Inflammatory Bowel Disease Patients
Inflammatory bowel disease (ulcerative colitis and Crohn's disease) is associated with an increased risk of thromboembolism. Andrew Tinsley MD, MS, associate director of clinical research and quality at Penn State Health Milton S. Hershey Medical Center's Inflammatory Bowel Disease Center explains, "While thromboembolic events are rare, they can be potentially life-threatening. Until one of your patients experiences one of these disease-related complications, or perhaps even dies from one, it's difficult to appreciate how important of an issue this is." The risk of thrombosis in the hospital can be significantly reduced with the use of daily medications such as heparin.
As a member of the Crohn's and Colitis Foundation of America's Quality of Care Committee, Tinsley is one of the first physicians to conduct research to explore the current state of thromboembolism prevention in hospitalized inflammatory bowel disease (IBD) patients. An initial nationwide survey of gastroenterologists was published by Tinsley and colleagues, and suggested that many providers were not routinely giving heparin for thromboembolism prophylaxis. Following on from this study, Tinsley recently looked at the actual rates of heparin use for preventing thrombosis in patients admitted with ulcerative colitis (UC). His findings, which recently appeared in the Journal of Crohn's and Colitis, revealed that only around 50 percent of inpatients with active UC received prophylactic anti-thrombotic medication. Furthermore, when the medications were ordered, medical patients failed to receive one-third of their doses.
Tinsley notes, "The survey and follow-up study revealed a tremendous variation in care; patients on surgical services received prophylactic anticoagulation much more than those on medical ones. I think some physicians are hesitant to prescribe prophylactic heparin for a patient who may have some bleeding from his or her IBD.
However, evidence suggests that there is no significant increase in bleeding episodes for UC patients when given heparin in this setting. Even if bleeding does occur, it's much easier to give a blood transfusion than it is to deal with a catastrophic thromboembolic event." Tinsley also notes that heparin prescribing patterns may play a role in missed doses. "Our latest study showed that physicians most often prescribed unfractionated heparin, which requires multiple doses per day. Once-daily dosing, using low molecular weight heparin, seems to result in fewer missed doses."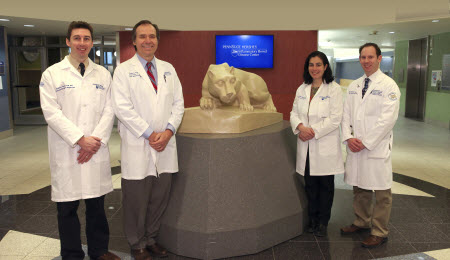 Tinsley (pictured left), along with colleagues Walter A. Koltun, MD, FACS, FASCRS, chief, Division of Colon and Rectal Surgery, professor of surgery; Emmanuelle Williams, MD, assistant professor of medicine; and Marc Schaefer, MD, PhD, associate professor of medicine; worked to form the Penn State Inflammatory Bowel Disease Center. The Center provides a true multidisciplinary approach to care of patients with Crohn's disease and UC. For more information about the IBD Center, visit Penn State Inflammatory Bowel Disease Center.
Assistant Professor of Medicine, Penn State Gastroenterology
Phone: 717-531-3694
Email: atinsley@pennstatehealth.psu.edu
Fellowship: Gastroenterology, Mount Sinai School of Medicine
Residency: Internal Medicine, Massachusetts General Hospital-Harvard Medical School; Internship: Internal Medicine, Massachusetts General Hospital-Harvard Medical School
Medical School: University of Vermont College of Medicine
Connect with Andrew Tinsley, MD, on Doximity