Routine Prophylactic Indomethacin for All ERCP Patients Called Into Question
Findings from a randomized, placebo-controlled, double-blind clinical trial raise doubts about the usefulness of indomethacin for prophylaxis of pancreatitis in all patients undergoing endoscopic retrograde cholangiopancreatography (ERCP).1 Consecutive ERCP patients randomized to receive a single dose of indomethacin (100 mg, rectal) prior to ERCP failed to exhibit any statistically significant decrease in the occurrence of post- ERCP pancreatitis (PEP) (7.9 percent), compared to patients randomized to placebo (4.4 percent). The indomethacin and placebo groups were also similarly likely to experience hospital readmission within 30 days following ERCP (Figure).
John M. Levenick, MD, assistant professor of medicine, gastroenterology and hepatology, and principal investigator for the trial conducted at Dartmouth-Hitchcock Medical Center, adds, "Even in patients considered at high-risk for post-ERCP pancreatitis, we failed to find any benefit of indomethacin. Moreover, indomethacin didn't modulate the severity of PEP when it did occur; it was just as severe in indomethacin-treated patients as it was in placebo-treated patients." The trial was halted early, due to statistical futility in showing any significant difference between indomethacin and placebo for the primary end point (PEP occurrence).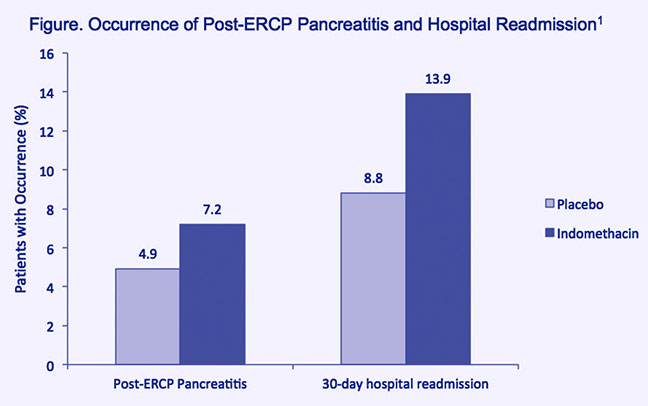 The study findings, presented as a poster at the 2015 American College of Gastroenterology annual meeting, received the Presidential Poster Award and are likely to spur a reevaluation of chemoprophylaxis of PEP using indomethacin. Dr. Levenick explains, "This study was prompted by a recent shift toward universal use of indomethacin for prevention of post-ERCP pancreatitis, largely based on a study in very high-risk ERCP patients, which showed a significant indomethacin preventive benefit.2 We wanted to examine whether the benefit was evident in the more typical ERCP patient population."
Based on this study and others, the European Society for Gastrointestinal Endoscopy (ESGE) guidelines3 recommended routinely giving prophylactic rectal indomethacin to all patients undergoing ERCP, including those at average risk for PEP, despite its efficacy in this population being unproven. Among ERCP patients enrolled in the earlier 2012 trial from Elmunzer, et al.2, 82.3 percent had a clinical suspicion of sphincter of Oddi, while only 2.8 percent had a suspicion of sphincter of Oddi in the trial reported by Levenick, et al.1 Dr. Levenick, notes, "The trial from Elmunzer was in a group of patients at very high PEP risk. It does not seem prudent to generalize the findings to the typical ERCP patient commonly seen in the clinic without careful study." Pancreatitis is the most common serious complication associated with ERCP; suspicion of sphincter of Oddi is recognized as a major risk factor for PEP. No guidelines pertaining to this issue have been issued from the American Society for Gastrointestinal Endoscopy.
This study is supported in part by grants from the National Pancreas Foundation.
Assistant Professor of Medicine
Phone: 717-531-6261
Email: jlevenick@pennstatehealth.psu.edu
Fellowship: Advanced endoscopy, Dartmouth Hitchcock Medical Center, Lebanon, N.H.; Gastroenterology, Dartmouth Hitchcock Medical Center, Lebanon, N.H.
Residency: Internal medicine, Dartmouth Hitchcock Medical Center, Lebanon, N.H.
Medical School: Stritch School of Medicine, Loyola University of Chicago, Maywood, Ill.
Connect with John M. Levenick, MD, on Doximity
REFERENCES:
Levenick JM, Gordon SR, Fadden LL, et al. 2016. Rectal Indomethacin Does Not Prevent Post-ERCP Pancreatitis in Consecutive Patients, a Randomized Trial. Gastroenterology. Jan 8. [Epub ahead of print]
Elmunzer BJ, Scheiman JM, Lehman GA, et al. for U.S. Cooperative for Outcomes Research in Endoscopy (USCORE). 2012. A randomized trial of rectal indomethacin to prevent post-ERCP pancreatitis. N Engl J Med. 366(15):1414-22.
Dumonceau JM, Andriulli A, Elmunzer BJ, et al. 2014. Prophylaxis of post- ERCP pancreatitis: European Society of Gastrointestinal Endoscopy (ESGE) Guideline – updated June 2014. Endoscopy. 46:799-815.