Push to Screen, Treat Baby Boomers for Hepatitis C Virus
In 2012, the U.S. Centers for Disease Control (CDC) recommended one-time screening for hepatitis C virus (HCV) for all adults born from 1945 to 1965 – the "baby boomers."1 Pennsylvania and New York state legislatures have passed laws making it mandatory for health care providers to offer HCV screening or diagnostic testing for all baby boomer patients.2,3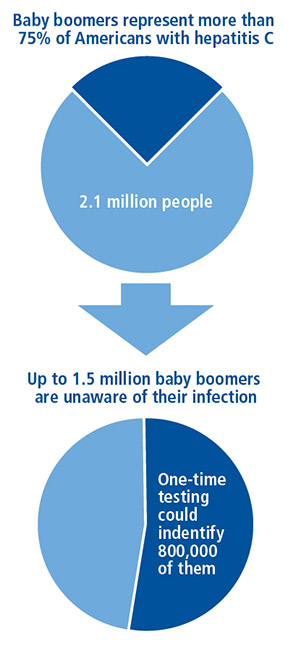 According to Thomas R. Riley, III, MD, gastroenterology and hepatology, Penn State Health Milton S. Hershey Medical Center, "We just aren't seeing the numbers of HCV cases that we know are out there in this population; this tells us that it isn't being detected."
Some gastroenterologists may not be comfortable broaching the topic with their baby boomer patients, Dr. Riley says, "I suggest gastroenterologists bundle the HCV screening with other routine tests, like a screening colonoscopy, at age 50 or 60 years. Hospitals should also be developing compliance processes regarding applicable state laws of mandatory screening." Baby boomers comprise 75 percent of all HCV cases among U.S. adults and are five times more likely than adults in any other age group to be infected (Figure).1
Dr. Riley further notes, "With new direct-acting anti-viral therapies, the entire treatment protocol and insurance coverage landscape has dramatically evolved." Newer treatments yield a cure rate of greater than 95 percent,4 making it more cost-efficient to detect this often silent killer.5,6 Insurers are also more likely to pay for HCV treatment, as Dr. Riley notes, "Patients with a fibrosis score as low as two are now often covered by commercial insurance or by Medicaid/Medicare." Screening results that lead to effective treatment help to avoid organ transplant, long-term maintenance regimens and the personal costs of disability and illness burdens.
The increased availability of insurance coverage has made lifesaving treatments accessible to more patients. However, not all patients with HCV have clinical features that qualify them for coverage, as Dr. Riley explains, "Even if anti-viral treatment is not yet covered, a positive HCV result is the gateway to appropriate ongoing monitoring and getting treatment at the earliest possible moment." A positive diagnosis may also help to prevent the spread of HCV.
Many patients with a positive HCV diagnosis may also qualify to participate in clinical trials of new treatment protocols and potential ground-breaking experimental drugs. Researchers at Hershey Medical Center gastroenterology and hepatology are actively engaged in new treatment research for patients with chronic HCV (NCT02138253 and NCT02613403).
Professor of Medicine
Medical Director, Liver Transplantation
Phone: 717-531-6261
Email: triley@pennstatehealth.psu.edu
Fellowship: Gastroenterology and Hepatology, University of Pittsburgh – University Health Center of Pittsburgh, Pittsburgh, Pa.
Residency: Internal Medicine, University of Utah Hospital and Clinics, Salt Lake City, Utah
Medical School: The Ohio State University College of Medicine, Columbus, Ohio
Connect with Thomas R. Riley III, MD, on Doximity
References
United States Centers for Disease Control. 2012. Hepatitis C: Proposed expansion of testing recommendations, 2012. Accessed July 31, 2016.
New York State Department of Health. 2013. Letter on HCV Testing Law. Accessed August 23, 2016.
Pennsylvania General Assembly. 2016. 2016 Special Session 1. Accessed August 23, 2016.
AASLD/IDSA HCV Guidance Panel. 2015. Hepatitis C guidance: AASLD-IDSA recommendations for testing, managing, and treating adults infected with hepatitis C virus. Hepatology. Sep;62(3):932-54.
Younossi ZM, Park H, Saab S, et al. 2015. Cost-effectiveness of all-oral ledipasvir/ sofosbuvir regimens in patients with chronic hepatitis C virus genotype 1 infection. Aliment Pharmacol Ther. Mar;41(6):544-63.
Chahal HS, Marseille EA, Tice JA, et al. 2016. Cost-effectiveness of early treatment of hepatitis C virus genotype 1 by stage of liver fibrosis in a US treatment-naive population. JAMA Intern Med. Jan;176(1):65-73.