New Developments in the Rapidly Evolving Landscape of Hepatitis C Therapy
Hepatitis C is one of the most dreaded conditions in the United States today, affecting approximately 2 percent of the population. It remains the most common cause for liver transplantation in the United States; 10,000-20,000 patients with hepatitis C die annually. Standard interferon/ribavirin regimens are given for six to twelve months, and only yield a cure rate of 40-50 percent. Furthermore, patients face a high risk of side effects, including, but not limited to, thyroid abnormalities, retinopathy, pancreatitis and blood cell dyscrasias.
Fortunately this clinical picture has brightened considerably in the last two years. Leading hepatologists in the United States and around the world, including those at Penn State Health Milton S. Hershey Medical Center, have helped to usher in a new era in hepatitis C treatment. Based on Phase III trials for which Milton S. Hershey Medical Center served as an investigational site, the protease inhibitors boceprevir and telaprevir were approved in 2011. Ian Schreibman, MD, associate professor of medicine, Division of Gastroenterology, Department of Medicine points out, "Unlike interferon, boceprevir and telaprevir directly disrupt the viral replication cycle. When combined with interferon and ribavirin, dramatically higher cure rates of about 70 percent were seen using a regimen only half as long (about six months). This represents a true paradigm shift in hepatitis C treatment."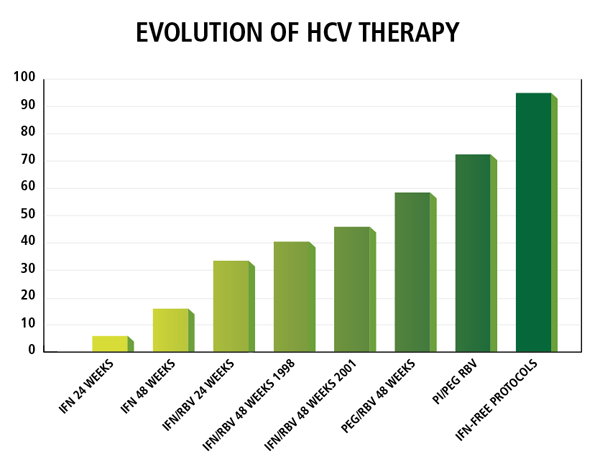 "Now, just two years after the introduction of boceprevir and telaprevir, we're on the cusp of another paradigm shift," remarks Schreibman. Pharmaceutical companies have developed directly acting anti-virals (DAAs) that attack various proteins at different steps within the viral replication pathway, a strategy analogous to highly active antiretroviral therapy (HAART) for HIV. These drugs can be administered without interferon. "Over the past twelve months, five different phase II and III trials have tested new DAAs in patients with hepatitis C. With interferon-free regimens lasting only three to six months, cure rates over 90 percent have been seen; one trial reported a cure rate of 100 percent," notes Schreibman. Side effects so far seem largely benign, including headache, mild gastrointestinal distress, and fatigue.
Schreibman is currently in discussions about potential involvement in upcoming phase II and III trials of several DAAs for hepatitis C. In May and June, he spoke at the Pennsylvania Department of Drug and Alcohol Program Hepatitis C Project Meeting and Milton S. Hershey Medical Center's Sixth Annual Gastroenterology and Hepatology Spring Update to raise awareness among physicians about the challenges posed by these new, game-changing therapies. Schreibman notes, "There are risks, challenges, and difficult treatment choices posed with introduction of any new drug. Post-marketing safety and efficacy have not been determined. How does one select patients for new vs. old therapies? Should therapy be delayed in anticipation of new drug approval? Without adherence to proven treatment protocols, new, treatment-resistant hepatitis C strains may arise." Physicians may be eager to embrace exciting more effective therapies but must do so with eyes wide open.
Associate professor, family and community medicine and orthopaedics and rehabilitation
Director, primary care sports medicine
Phone: 717-531-8752
Email: ischreibman@pennstatehealth.psu.edu
Fellowship: Sports medicine, Wake Forest University Baptist Medical Center, Winston Salem, NC
Residency: Family and sports medicine, Wake Forest University Baptist Medical Center, Winston Salem, NC
Medical School: Penn State College of Medicine, Hershey, Pa.
Connect with Ian Schreibman, MD, on Doximity