Pioneering Project Views Employers and Human Resource Departments as Key to Improving Colorectal Cancer Screening Rates
A new colorectal cancer (CRC) screening program, developed by Dr. Thomas McGarrity, has been launched at the Penn State Health Milton S. Hershey Medical Center Employee Health Department. Dr. McGarrity, professor of medicine at Penn State College of Medicine, says the employee survey/screening effort is a first-of-its-kind model that he hopes to see spread around the state, the region and eventually the country.
Under this model, all employees who visit the Employee Health Department are asked to complete a survey that indicates whether or not they are up-to-date on their CRC screening, and also identifies employees who are at high risk due to family and personal medical history. With this information, appropriate recommendations and follow-up are provided. The involvement of the Human Resources Department beginning in September 2017 helped expand the program to the many partner campuses of the medical center, including the College of Medicine through the use of an electronic survey.
McGarrity has identified three primary reasons why patients do not get screened for colorectal cancer: patient-based (fear of the colonoscopy procedure), clinician-based (lack of effective reminder systems) and socioeconomic (lack of health insurance coverage.) While the health insurance debate continues, physicians can have a major impact on their patient populations. By explaining the colonoscopy procedure and its importance, outlining other tests that can be just as accurate in low-risk patients and strongly recommending that their patients be screened, every single physician can have a positive influence on the statewide CRC incidence and mortality rates, says Dr. McGarrity.
According to the Pennsylvania Department of Health, Division of Health Informatics, the age-adjusted colorectal cancer incidence rate in Pennsylvania between 2010-2013 was 11.5 percent higher than the national rate, which has steadily declined.1 The age-adjusted colorectal cancer mortality rate was 8.7 percent higher than the national average by the end of 2013.1 Although advanced disease is associated with high morbidity and mortality, the precursor lesion for colorectal cancer is easily identifiable and treatable. Appropriate screening and surveillance lowered the incidence of disease. Dr. McGarrity hopes the new screening program will lead to significant reductions in both rates by 2018, as outlined by the National Colorectal Cancer Roundtable Initiative "80% by 2018" program.2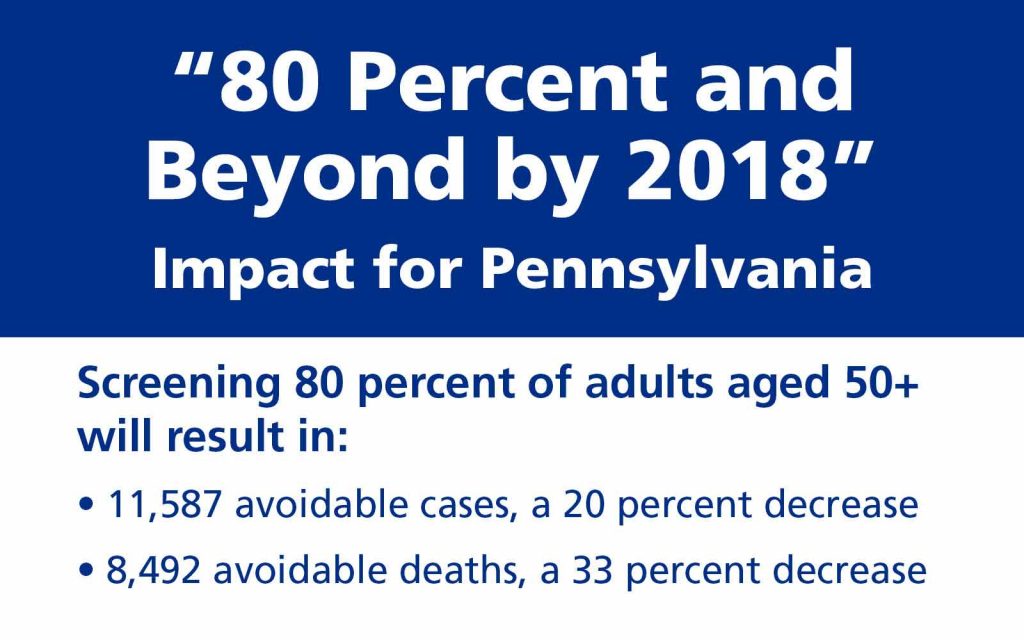 "This kind of activity may be less sexy than 'raising the ceiling' on new cancer treatment discoveries, but by increasing screening rates, we're 'raising the floor'," says McGarrity. He reiterates that, since much of the primary scientific work has been performed, and physicians know the biology of colon cancer, screening and disease prevention are the areas that hold the greatest potential patient benefit. "Colorectal cancer is currently the number two cause of cancer death in both men and women, and it is the most preventable cancer – not just treatable but preventable," he says.
References:
Department of Health – Health Statistics. Accessed September 1, 2017.
National Colorectal Cancer Roundtable. 80% by 2018. Accessed September 1, 2017.
Professor, Department of Medicine, Penn State College of Medicine
Phone: 717-531-6261
Email: tmcgarrity@pennstatehealth.psu.edu
Fellowship: Gastroenterology, Penn State Health Milton S. Hershey Medical Center, Hershey, Pa.
Residency: Medicine, Penn State Milton S. Hershey Medical Center
Medical School: University of Virginia School of Medicine, Charlottesville, Va.
Internship, Medicine: University of Pittsburgh - University Health Center of Pittsburgh
Connect with Thomas J. McGarrity, MD, on Doximity