Exercise as Medicine for Gastro-Intestinal Cancer Surgery Patients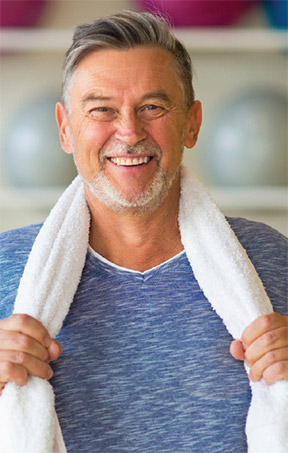 Exercise interventions that increase physical activity prior to a patient undergoing surgery or during chemo/radiotherapy for colorectal cancer and other types of cancer have demonstrated improvements in daily activities, social activity, and fatigue, anxiety and depression.1
"If exercise were a drug, it would have no trouble getting FDA approval," says Niraj J. Gusani, MD, associate professor of surgery, medicine and public health sciences, Penn State Health Milton S. Hershey Medical Center.
Dr. Gusani and Amanda B. Cooper, MD, assistant professor of surgery, have launched rigorous research programs for patients with upper GI cancers, studying the effects of physical activity as it relates to recovery from surgery and long-term survival.
The work is based, in part, on earlier findings from Dr. Cooper's group, showing that higher levels of skeletal muscle mass loss in patients with pancreatic cancer significantly predicted shorter disease-free survival times, while loss of visceral adipose tissue improved disease-free survival.2
Dr. Cooper notes, "Now we're investigating whether a regimen of strength-training (ST) during pre-operative therapy will build-up skeletal muscle and reduce visceral adipose tissue. The hope is that if patients exercise during neoadjuvant therapy, aimed at reducing or shrinking tumors prior to surgery, they will be stronger and more physically fit as they prepare for surgery. We'll examine body composition changes during treatment and possible impacts on survival and disease progression."
The ST program used in this study is the Band Together program developed by Chris N. Sciamanna, MD, MPH, professor of medicine and public health sciences.
Behavioral Goals
Note: Patients must remain standing (or walking) for more than 1 minute to record a valid sit-stand transition. Patients are advised against heavy lifting (more than 10 pounds) during the peri- and post-operative periods.
In related work, Dr. Gusani is currently examining the impact of physical activity on fatigue and performance of daily activities in patients with upper GI tract cancers. Dr. Gusani explains, "Most of the patients in our program are older, very sedentary adults. They have very little in the way of 'reserve' strength as they undergo surgery and cancer treatments. Even with curative treatment, quality-of-life can sometimes be poor." Dr. Gusani's investigation will randomize patients to basic physical activity (walking, increasing steps) with well-defined goals (see table above) prior to, during and after surgery; a three-way accelerometer will measure actual movement. He explains, "We're interested in whether increased activity helps to decrease fatigue and improve performance of activities of daily living."
Exercise as a prescribed intervention may also be a means to empower patients and their families. Dr. Gusani adds, "Patients always ask, 'What can I do?' Exercise is something concrete they can do for themselves and family members can be supportive exercise partners."
Niraj J. Gusani, MD
Associate Professor of Surgery, Medicine and Public Health Sciences
Penn State College of Medicine and Penn State Cancer Institute
Phone: 717-531-6261
Email: ngusani@pennstatehealth.psu.edu
Fellowship: Surgical Oncology Research, Memorial Sloan-Kettering Cancer Center, New York, NY; Surgical Oncology, University of Pittsburgh Medical Center, Pittsburgh, Pa.
Residency: Surgery, General, University of Chicago Medical Center, Chicago, Ill.
Medical School: University of Pennsylvania School of Medicine, Philadelphia, Pa.
Connect with Penn State Health Gastroenterology and Hepatology on Doximity
Assistant Professor of Surgery
Penn State College of Medicine and Penn State Cancer Institute
Phone: 717-531-6261
Email: acooper2@pennstatehealth.psu.edu
Fellowship: Hepatopancreatobiliary Surgery and Surgical Oncology, MD Anderson Cancer Center, Houston, Texas
Residency: Surgery, General, Indiana University Medical Center, Indianapolis, Ind.
Medical School: Vanderbilt University School of Medicine, Nashville, Tenn.
Connect with Amanda B. Cooper, MD, on Doximity
References
Mishra SI, Scherer RW, Snyder C, Geigle PM, Berlanstein DR, Topaloglu O. Exercise interventions on health-related quality of life for people with cancer during active treatment. Cochrane Database Syst RevOnline. 2012;8:CD008465.
Cooper A, Slack R, Fogelman D et al. 2014. Characterization of anthropometric changes that occur during neoadjuvant therapy for potentially resectable pancreatic cancer. Annals of Surgical Oncology. 22(7):2416-2423.