Penn State Health Researchers Pursue Answers to Origins of Diverticular Disease
Biobank Facilitates Studies of Genetic Pathways, Microbiome and Immune Response
Using RNA deep sequencing (RNA-seq) to better understand and manage patients with diverticulitis is the focus of new and ongoing research at Penn State Health Milton S. Hershey Medical Center.
Diverticular disease, including both diverticulosis and diverticulitis, affects about 10% of the population over 45 years old; incidence increases with age. It is the third most common gastrointestinal disorder requiring hospitalization and accounts for an estimated $2.1 billion in health care costs in the U.S. per year. Diverticulosis, the presence of outpouchings of colonic mucosa and submucosa through the muscularis, can lead to diverticulitis, an inflammation of the diverticuli that occurs in 10 to 20% of people with diverticulosis.¹
To determine which patients have a physiologic predisposition for disease progression that could benefit from early surgical intervention, researchers are performing RNA-seq on tissue samples housed in Penn State Health's Colorectal Diseases Biobank. The biobank is perhaps the largest of its kind in the country, with tissue samples from 750 patients with documented diverticulitis.
Individualized management of diverticulitis will be aided by being able to identify subsets of patients who are at higher risk of having recurrent episodes and, therefore, candidates for earlier and more definitive surgical management, believes Dr. Walter Koltun, a colorectal surgeon and chief of Colon and Rectal Surgery at the Milton S. Hershey Medical Center.
"With RNA-seq, we're looking at genetic pathways that could guide us in telling patients with diverticulitis: 'You don't need surgery' or 'You're going to have repetitive bouts of diverticulitis, and we should operate sooner rather than later,'" Dr. Koltun says.
"We're analyzing tissue for expressed products of the human genome or the transcriptome to identify biological pathways that are aberrant and relate to diverticulitis," Dr. Koltun continues. His team is using these same tissue samples to study the microbiome of the gut in search of bacteria that could also be contributing to diverticular disease.
A third area of exploration is identifying genetic pathways that may relate to immune dysfunction in people with diverticular disease, leading to infectious complications of the disease, such as abscess or perforation.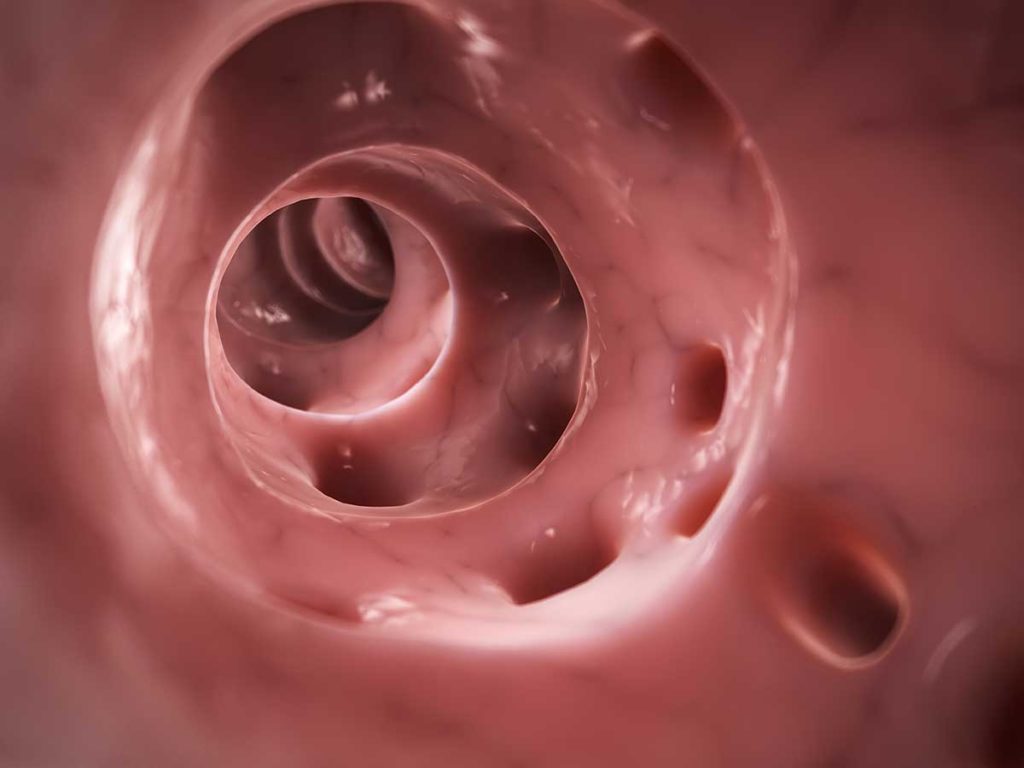 Multifocal Diverticulitis
In a study published in 2018 titled, "Multifocal Versus Conventional Unifocal Diverticulitis: A Comparison of Clinical and Transcriptomic Characteristics," Dr. Koltun and co-investigators identified a previously undescribed group of patients who are prone to recurrent bouts of diverticulitis in different colonic locations.
These patients with multifocal diverticulitis (MFD) have distinguishing characteristics, such as a trend toward younger age of onset, a family history of diverticulitis, diverticula throughout the colon, right-sided diverticulitis, need of surgery for persistent symptoms and recurrence of diverticulitis after standard segmental resection.
The prompt identification of such MFD patients will allow for more appropriate surgical management to prevent recurrent episodes of diverticulitis.
Identifying Immune Response Dysfunction
Using RNA-seq, medical center researchers also have identified a potential alteration in the immune system in patients with MFD compared to those with unifocal diverticulitis (UFD). This may be responsible for the more aggressive disease phenotype identified clinically in these patients.
Further studies into the clinical and biologic features that differentiate people with MFD from conventional UFD patients may help define genetic or serum determinants to aid in surgical decision making.
In a separate study published in 2018, Drs. Koltun, Schieffer, Yochum and others explored the molecular underpinnings of diverticulitis by using RNA-seq to profile the colonic transcriptomes of earlier-onset and later-onset diverticulitis.²
Their paper, titled, "A Differential Host Response to Viral Infection Defines a Subset of Earlier-Onset Diverticulitis Patients," concluded:
"…the majority of those with early-onset disease displayed an enhanced antiviral response. Although the intestinal virome is poorly characterized in humans, studies are required that evaluate the viral contribution to the human intestinal microbiome and how this changes during the inflammatory processes associated with diverticulitis. As earlier-onset patients are typically afflicted with recurring disease, identifying a causal viral agent may lead to better therapeutic management, which could delay or prevent the need for surgical intervention."
Susceptibility to a viral pathogen may offer one explanation of why some individuals develop diverticulitis at an earlier age and why antibiotics are not always effective in treating uncomplicated disease.
What's Next
Future research proposes to integrate study of the genetic makeup, the transcriptome and the microbiome to explain the pathophysiology of the disease and lead to better treatment of individual patients.
Dr. Koltun says, "With each new discovery, we are developing a more accurate picture of the factors that contribute to diverticular disease."
Chief, Colorectal Surgery, Penn State Health Milton S. Hershey Medical Center
Director, Carlino Family Inflammatory Bowel Disease Center
Professor of Surgery, Penn State College of Medicine
Peter and Marshia Carlino Chair in Inflammatory Bowel Disease
Phone: 717-531-5164
Email: wkoltun@pennstatehealth.psu.edu
Fellowship: Colon and rectal surgery, Lahey Hospital and Medical Center, Burlington, Mass.
Residency: General surgery, Brigham and Women's Hospital, Boston
Medical School: Harvard Medical School, Boston
Connect with Walter A. Koltun, MD, on Doximity
References
Kline B, Schieffer K, Choi C, Connelly T, Chen J, Harris L, Deiling S, Yochum G, Koltun W. Multifocal versus conventional unifocal diverticulitis: A comparison of clinical and transcriptomic characteristics. Dig Dis Sci (2019) 64: 3143.
Schieffer K, Kline B, Harris L, Deiling S, Koltun W, Yochum G. A differential host response to viral infection defines a subset of earlier-onset diverticulitis patients. J Gastrointestin Liver Dis. 2018 September 27(3): 249-255.