Advances in Treating Esophageal Perforation
Decisions regarding the treatment of patients with an esophageal perforation or spontaneous rupture are usually tackled in the emergency care setting. In recent years, the viable treatment options for patients with such life-threatening problems have expanded with development of new techniques and more widespread use of collaborative care.
As an example, in a case of Boerhaave syndrome (emetogenic esophageal rupture) recently encountered at Penn State Health Milton S. Hershey Medical Center, a middle-aged woman presented to the emergency department medical team with unrelenting, severe, upper abdominal and pleuritic lower chest pain after a long night of emesis. Contrast radiography and computed tomography revealed a distal esophageal perforation, a complex pleural effusion, and associated mediastinal air (Figure 1), prompting emergent consults to gastroenterology and thoracic surgery. Medical Center surgeons and gastroenterologists chose to deploy a removable, fully covered, self-expanding metal esophageal stent across the esophageal disruption (Figure 2). This was positioned to arrest mediastinal contamination due to leakage of esophageal contents into the pleural space and periesophageal tissues. The stent type, diameter and length are individualized to each patient; getting the right "fit" is critical to exclude the lesion and achieve stable placement.
This stenting approach contrasts sharply with standard conservative treatment: emergency thoracotomy, esophageal dissection and closure, viable tissue flap coverage, lung decortication and wide pleural drainage. Recovery may take weeks and involve intravenous nutrition, repeated imaging assessments and additional surgery. In this particular case, when the esophageal stent was not able to provide a complete occlusion of the disruption due to extension of the tear distal to the gastroesophageal junction, an innovative endoscopic suturing device and technique were used to suture the mucosa closed (Figure 3).
Surgeons and gastroenterologists at the Medical Center collaborate on an average of twenty such cases each year and recognize there is no single best approach to treat esophageal rupture; each case has unique features. The timing of events, including patient presentation, is a crucial factor that determines the optimal treatment approach and prognosis. Ongoing mediastinal and pleural space inflammation must be handled aggressively, but the team has learned that endoscopic and minimally invasive surgical options, including esophageal stenting, are often adequate to provide access and control. In select cases, this will prevent the need for major surgery. The clinical scenario is often dynamic and the patient status can rapidly deteriorate; therefore, careful monitoring and collaborative, supportive care are vital. In this patient case, use of an esophageal stent and endoscopic suturing, in combination with immediate antibiotic treatment and other supportive measures, allowed reversal of sepsis; oral intake of nutrition and fluids was resumed at a comparatively early time point (versus traditional esophageal repair) and the patient made a timely, full recovery to normal activities.
Techniques and equipment evolve and improve, and when teams collaborate closely over time, skills merge and complement each other. Esophageal stenting and minimally invasive repair are newer approaches that can now be considered for treatment of esophageal perforation. While this remains a challenging, often life-threatening clinical problem, there are fewer obstacles to recovery for selected patients, and prognosis is more optimistic.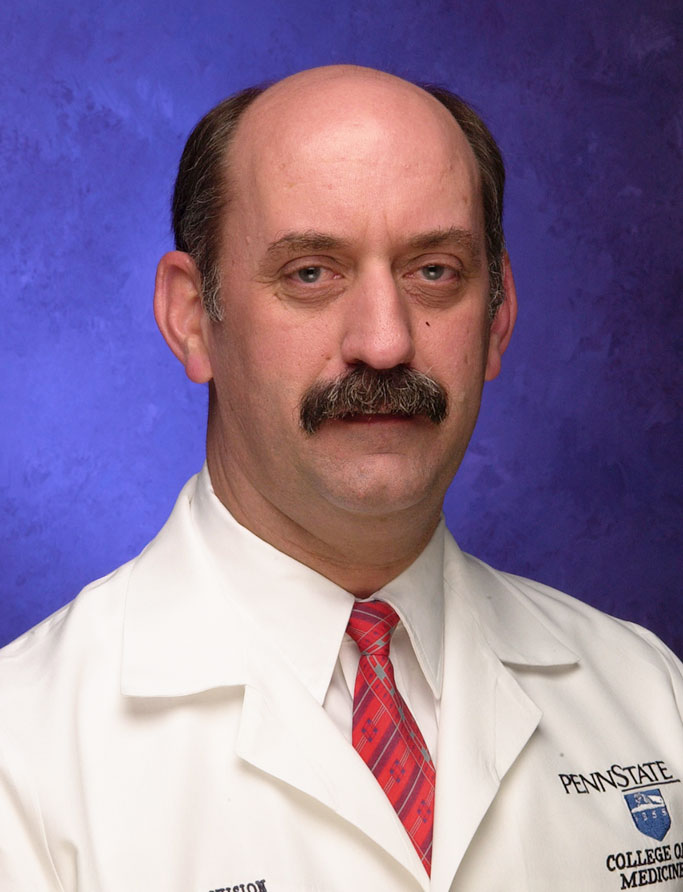 Professor, Department of Medicine, Division of Gastroenterology and Hepatology, Penn State Cancer Institute
Phone: 717-531-4950
Email: mmoyer@pennstatehealth.psu.edu
Fellowship: Gastroenterology, Penn State Health Milton S. Hershey Medical Center, Hershey, Pa.
Residency: Internal Medicine, Penn State Health Milton S. Hershey Medical Center, Hershey, Pa.
Medical School: Penn State College of Medicine, Hershey, Pa.
Connect with Matthew T. Moyer, MD, MS, on Doximity