Total Artificial Heart: More Options for Those in Need of Smaller Heart, Destination Therapy
Penn State Health Milton S. Hershey Medical Center has joined two multicenter trials that evaluate a total artificial heart (TAH) and may save the lives of even more patients with irreversible biventricular heart failure (BVHF). The focus of the observational studies is the SynCardia® TAH, which was first approved by the FDA as a bridge to transplant in a 70cc size, based on a study of 81 patients, 79 percent of whom survived to receive a transplant.1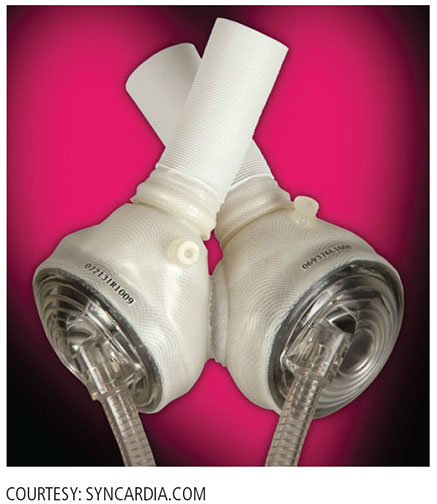 The first study examines the safety of the 70cc device for use as destination therapy in patients with life-threatening BVHF who are ineligible for cardiac transplant. To date, 12 centers, including Milton S. Hershey Medical Center, are set to enroll patients and follow them for six months to confirm the device's benefits. Researchers define success as survival to six months without permanent deficits from stroke. Patients may also participate in a secondary arm of the trial to determine whether a broader patient population would also benefit from the device.2
The second study evaluates a newer SynCardia 50cc TAH as a bridge to transplant in small-statured adult and pediatric patients, ages 10 to 75, who are at imminent risk of death and eligible to receive donor hearts. In 2015, the Heart and Vascular Institute was the first in the United States to receive the 50cc SynCardia TAH device as part of the national trial. It is a smaller version of the device, which can be used in patients who are too small to benefit from the standard 70cc device. The primary outcome is survival, while secondary safety-related outcomes include decreased rates of stroke, chronic renal infection, device malfunction and major infections.3
In 2007, Milton S. Hershey Medical Center became the first hospital in central Pennsylvania to implant the SynCardia TAH. Hershey Medical Center has since implanted a total of 15 devices, with seven surgeries performed in 2015 alone, notes Behzad Soleimani, MD, surgical director, transplantation and mechanical circulatory support. These figures make the Institute's volume of SynCardia TAH implantation surgery the second highest among the 64 centers that offered the implantation procedure in 2015.
Hershey Medical Center has a long history of adopting new artificial heart technology, dating back to 1985 when the hospital implanted its first TAH, an air-driven device. In 1993, it was one of only three institutions awarded a three-year, $5.4 million contract from the National Heart, Lung, and Blood Institute to continue its work in developing a fully implantable electric heart.
Research toward this goal focuses on transcutaneous transfer technology that would eliminate the drive-line that connects current TAH devices to external power sources and address hemocompatibility issues, which previously led to high rates of stroke in patients who received totally implantable electric hearts, says Dr. Soleimani. "We are still looking for a totally implantable artificial heart that is both hemocompatible and has no drive-line. That is the holy grail," he adds.
Director (interim), Penn State Heart and Vascular Institute
Chief, Division of Cardiac Surgery
Surgical Director, Heart Transplantation and Mechanical Circulatory Support
Associate Professor of Surgery
Phone: 717-531-8330
Email: bsoleimani@pennstatehealth.psu.edu
Fellowship: Cardiopulmonary transplantation surgery, Harefield Hospital, NHS Foundation Trust, Middlesex, England
Residency: Cardiothoracic surgery and general surgery, The Royal College of Surgeons of England, London, England
Medical School: University of Cambridge School of Medicine, Cambridge, England
Connect with Behzad Soleimani, MD, on Doximity
References:
Copeland JG, Smith RG, Arabia FA, Nolan PE, Sethi GK, Tsau PH T, McClellan D, Slepian MJ; CardioWest Total Artificial Heart Investigators. Cardiac replacement with a total artificial heart as a bridge to transplantation. N Engl J Med 2004; 351:859-867.
https://clinicaltrials.gov/ct2/show/NCT02232659?term=syncardia+70++cc+TAH+as+destination+therapy&rank=1 . Accessed February 12, 2016.