Phase III Trial Evaluates Autologous Cartilage Implant for Local Femoral Cartilage Defects
Regenerative medicine and tissue engineering for focal chondral defects of the knee joint aim to augment, repair, replace or regenerate the damaged cartilage caused by trauma or the natural aging process. Enrollment is underway at Penn State Health Milton S. Hershey Medical Center for a Phase III clinical trial of an autologous cartilage implant (NOVOCART® 3D, Aesculap Biologics, LLC/B. Braun, Inc.) for the repair of femoral cartilage defects.
Robert Gallo, MD, associate professor of sports medicine and the site principal investigator for this trial, explains, "Patients who experience knee pain and are limited in their activities because of a large cartilage defect on the distal femur are good potential candidates for this trial." Such localized defects usually result from trauma or repetitive use during sports activity and are not seen in the setting of osteoarthritis or other arthropathies; patients with "kissing" lesions are not permitted to enroll. The NOVOCART 3D (three-dimensional) implant is a combination biologic device made by harvesting autologous chondrocytes from the patient, which are then sent to a central laboratory and expanded; the cells are then seeded onto a bioresorbable three-dimensional collagen-based matrix that is implanted at the defect site three weeks later.1
Patients enrolled in the trial will be randomized to either NOVOCART 3D implant or microfracture. Dr. Gallo says, "The current first-line standard of care for chondral defects of this nature is microfracture. While short-term outcomes are generally good, durability of the fibrocartilaginous tissue formed using this technique is limited and patients often later require secondary surgery. We're very interested to look at the long-term outcomes with the NOVOCART implant."
Patients enrolled in the trial will be followed for up to five years. The NOVOCART 3D implant leads to formation of hyaline cartilage at the defect site,2 similar in composition to native articular cartilage and having the potential for a more lasting benefit to the patient. Currently available treatments delay progression to osteoarthritis and the need for more invasive treatments like knee replacement; cartilage defects have little endogenous ability to heal on their own.
The 3D scaffold onto which the chondrocytes are seeded importantly influences chondrocyte differentiation, migration and hyaline expression.3 Dr. Gallo adds, "Although autologous cartilage implantation is a well-established technique, the key importance of combining it with a scaffold matrix at the defect site is becoming clear." The scaffold can also serve as a protective environment for chondrocytes and help to rebalance load during weight-bearing activity. Dr. Gallo and his team are investigators in a magnetic resonance imaging (MRI) sub-study to examine in more detail the nature of defect healing following treatment. NOVOCART 3D differs from other chondrocyte/ scaffold products in that the matrix is composed of types I and III collagen, as opposed to various porous synthetic biodegradable polymers, like polycaprolactone. The product has been available in Europe since 2003.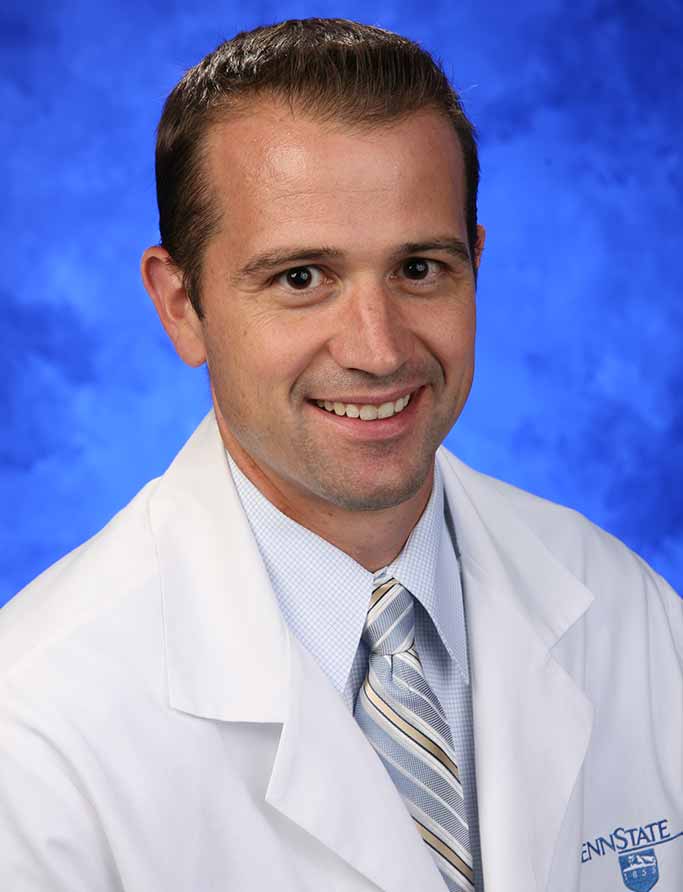 Orthopaedic Surgeon, Sports Medicine
Associate Professor, Sports Medicine
Phone: 717-531-4837
Email: rgallo@pennstatehealth.psu.edu
Fellowship: Sports medicine and shoulder surgery, Hospital for Special Surgery, New York, N.Y.
Residency: Orthopaedic surgery, Allegheny General Hospital, Pittsburgh, Pa.
Medical School: Penn State College of Medicine, Hershey, Pa.
Connect with Robert A. Gallo, MD, on Doximity
References
Berninger MT, Wexel G, Rummeny EJ, Imhoff AB, Anton M, Henning TD, Vogt S. 2013. Matrix-assisted autologous chondrocyte transplantation for remodeling and repair of chondral defects in a rabbit model. J Vis Exp. 2013 May 21;(75):e4422.
Albrecht C, Tichy B, Nürnberger S, Hosiner S, Zak L, Aldrian S, Marlovits S. 2011. Gene expression and cell differentiation in matrix-associated chondrocyte transplantation grafts: a comparative study. Osteoarthritis Cartilage. Oct;19(10):1219-27.
Wylie JD, Hartley MK, Kapron AL, Aoki SK, Maak TG. 2015. What is the effect of matrices on cartilage repair? A systematic review. Clin Orthop Relat Res. May;473(5):1673-82.