Four-Year Study of MRI-Defined Hip Labral Tears in High-Level Ice Hockey Players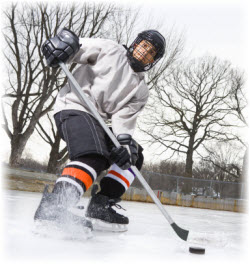 In high-level athletes, joint pathology discovered on imaging studies is extremely common, even among those not manifesting clinical symptoms. Magnetic resonance imaging (MRI) studies of asymptomatic professional baseball pitchers show 79 percent with labral abnormalities in the shoulder;1 likewise, 65 percent of asymptomatic college basketball players show some combination of patellar tendinosis or chondrosis.2 Based on the abnormalities present on MRI, surgeons can potentially be misled into recommending a surgical procedure, based on an imaging finding, that does not correlate with clinical symptoms or physical exam. According to Robert A. Gallo, MD, Penn State Bone and Joint Institute, "Arthroscopic repair of tendon or joint damage often requires recovery time of four to six months. In an average athlete with a playing career of five to six seasons, this downtime can have a significant impact on their career. Therefore, any decision to proceed with surgical intervention, especially hip arthroscopy, should be carefully considered."
To further define the impact of hip labral tears found among asymptomatic athletes, Gallo and his colleagues at the Bone and Joint Institute launched a four-year longitudinal study of college and professional ice hockey players that began in 2009. Their aim was to describe the prevalence and nature of joint pathology and follow its effect on player performance. Asymptomatic players had MRIs of the hip joint performed at baseline and each player completed a questionnaire annually for the first two years. For professional players enrolled in the study, the number of games played was tracked for four years. "We found at baseline that 81 percent of the asymptomatic players had hip or groin pathology, predominantly comprised of labral tears."3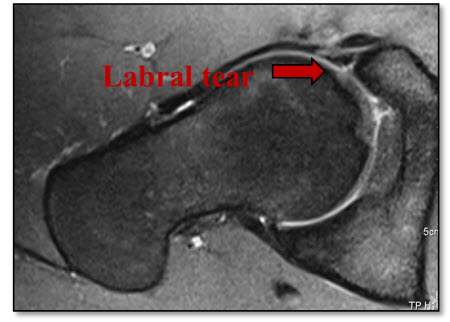 Acetabular labral tears (red arrow) are a common finding among asymptomatic elite ice hockey players but often do not become symptomatic in the short-term.
At the two-year follow-up, among the fifteen asymptomatic professional players with labral tears, twelve had advanced to a higher level of play; of the three players who reported groin symptoms, only one sought treatment and missed any games.4 During the entire four-year study, no players had undergone surgery or retired due to hip or groin symptoms, and only one player missed any games. Gallo says "Our final four-year data demonstrates that the large majority of ice hockey players with joint pathology don't become symptomatic and they maintain a very high level of performance over time."
The findings may help to guide decisions about whether to perform a surgical repair. Gallo explains, "In collegiate and professional athletes, eight out of ten MRIs will show something's wrong; it's natural to think it should be fixed. Our longitudinal findings instead suggest counseling asymptomatic players and beginning with a conservative, non-operative approach to healing."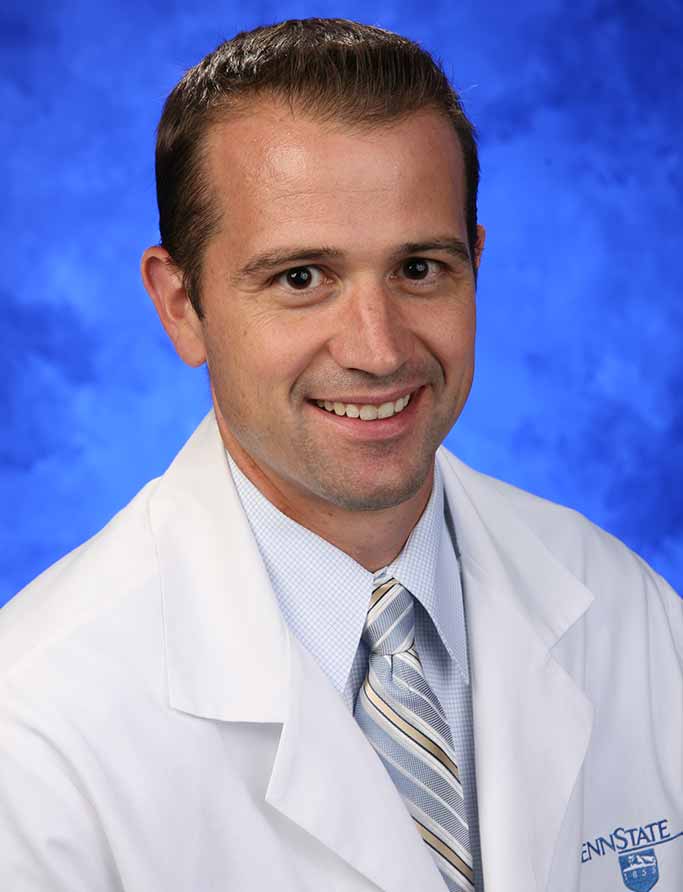 Orthopaedic Surgeon, Sports Medicine
Associate Professor, Sports Medicine
Phone: 717-531-4837
Email: rgallo@pennstatehealth.psu.edu
Fellowship: Sports medicine and shoulder surgery, Hospital for Special Surgery, New York, N.Y.
Residency: Orthopaedic surgery, Allegheny General Hospital, Pittsburgh, Pa.
Medical School: Penn State College of Medicine, Hershey, Pa.
Connect with Robert A. Gallo, MD, on Doximity
Reference
Miniaci A, Mascia AT, Salonen DC, Becker EJ. Magnetic resonance imaging of the shoulder in asymptomatic professional baseball pitchers. Am J Sports Med. 2002; 30(1):66-73.
Major NM, Helms CA. MR imaging of the knee: findings in asymptomatic collegiate basketball players. AJR Am J Roentgenol. 2002;179(3):641-4.
Silvis ML, Mosher TJ, Smetana BS, Chinchilli VM, Flemming DJ, Walker EA, Black KP. High prevalence of pelvic and hip magnetic resonance imaging findings in asymptomatic collegiate and professional hockey players. Am J Sports Med. 2011; 39(4):715-21.
Gallo RA, Silvis ML, Stuck D, Mosher TJ, Lynch S, Black KP. Hip Labral Tears Among Asymptomatic Hockey Players Identified on MRI: Two-year Follow-up Study. Poster presentation, American Orthopaedic Society for Sports Medicine, Annual Meeting, Chicago, Illinois, July 10-13, 2013.