Exploring Genetic Factors in Impaired Bone Healing
Among the nearly 8 million fractures that occur annually in the United States, approximately 10 percent of these, or 800,000 show impaired healing or non-union. According to J. Spence Reid, MD, Penn State Bone and Joint Institute, "Although we know that certain factors like smoking and diabetes, and some medications are associated with impaired bone healing; in some cases it's unexplained. Impaired fracture healing, regardless of the cause, is expensive to treat and significantly delays the patient's return to normal activities. Because Penn State Health Milton S. Hershey Medical Center is a tertiary referral center, we frequently see this problem in our clinic. In many cases, patients with delayed healing will require a bone graft and revision of fixation hardware at the fracture site."
Reid and his colleagues have begun to study the possibility that genetic factors predispose certain patients to poor bone healing. In an exploratory study conducted at Penn State Milton S. Hershey Medical Center, bucomocosal tissue samples were obtained from patients with normal healing fractures of the tibia, femur, humerus, or forearm and a matching group of patients with similar fractures that showed impaired healing. Tissue sample DNA was genotyped for 144 single nucleotide polymorphisms (SNPs) the researchers considered potentially involved in bone healing. The presence of each SNP was then tested for an association with fracture nonunion. Preliminary data from this study were presented at the 2012 annual meeting of the Orthopedic Research Society1 and is currently being reviewed for publication. "The initial data from our small exploratory study have been very encouraging. In particular, significant associations between impaired bone healing and SNPs related to bone morphogenetic protein, type 7 (BMP7) and inducible nitric oxide synthase (iNOS) have been found," notes Reid.
On the basis of these findings, the Orthopedic Trauma Association has granted Reid and his colleagues funds for additional research. "We're in the beginning stages of implementing a similar design for a larger, multi-center study in collaboration with the Cleveland MetroHealth Trauma Center and St. Louis University." The researchers hope that in the future, a genetic test for key bone-healing related SNPs can be developed to rapidly screen patients at the time they initially present with a fracture. Reid explains, "If we can use a genetic screening test to identify patients at risk for impaired bone healing, we can intervene earlier, instead of waiting for a healing problem to occur over several months. Patients identified as potential slow healers may be managed more aggressively at the time of their initial fracture treatment with the use of parathyroid hormone, immediate bone grafting, or a physical modality such as pulsed ultrasound or electric field therapy."
An example of a case in which early genetic screening may have significantly shortened treatment time is shown in figures A through C above. As a result of the delayed healing of this fracture, this patient was unable to return to work until ten months following the initial injury. The nonunion was diagnosed and treated at six months with a bone-grafting (FIGURE B). A positive genetic screen at the time of the injury in such a patient would justify the immediate use of bone grafting and likely would have led to more rapid healing and return to work.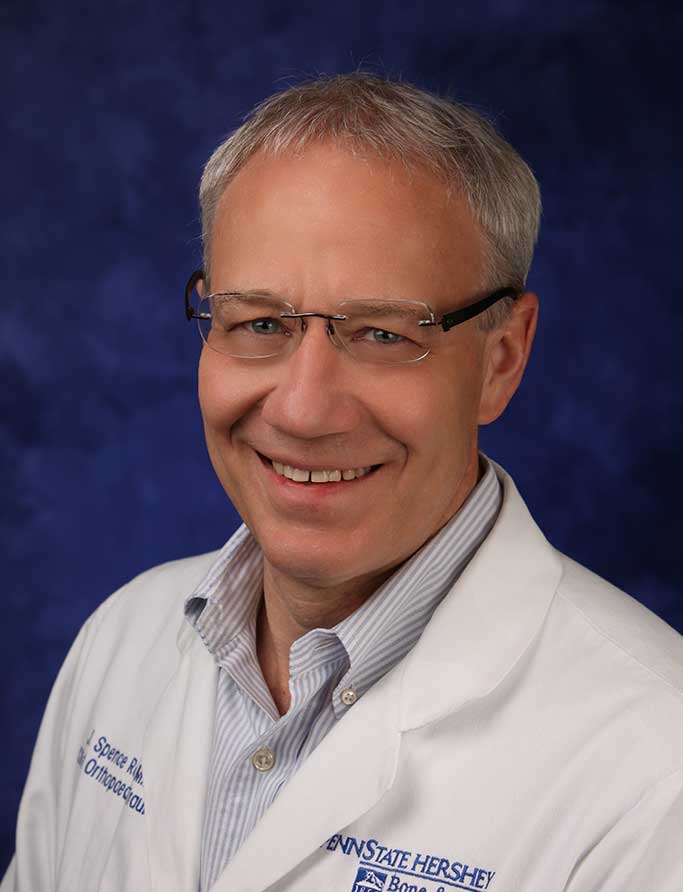 Orthopaedic Surgeon, Trauma
Professor, Orthopaedics and Rehabilitation
Phone: 717-531-1363
Email: jreid@pennstatehealth.psu.edu
Fellowship: Orthopaedic trauma, R. Adams Cowley Shock Trauma Center, Baltimore, Maryland
Residency: Orthopaedic surgery, Penn State Health Milton S. Hershey Medical Center, Hershey, Pa.
Medical School: Penn State College of Medicine, Hershey, Pa.
Connect with Penn State Bone and Joint Institute on Doximity
Reference
Sathyendra V, Donahue HJ, Vrana KE, Berg A, Reid JS. Single nucleotide polymorphisms in osteogenic genes in atrophic delayed fracture healing. Poster presented at the 58th annual meeting of the Orthopedic Research Society, Minneapolis, MN, 2012.