Developing an Adult Stem Cell Treatment Option for Posterior Tibial Tendon Dysfunction
Most patients with posterior tibial tendon dysfunction (PTTD, "fallen arches") delay seeking treatment until the disease has progressed and requires surgery. Currently, available surgical approaches do not attempt to repair the degenerated posterior tibial tendon, but instead try to reinforce it with tendon transfers or decrease the load on the tendon via osteotomy or arthrodesis. Umur Aydogan, MD, Penn State Bone and Joint Institute, and colleagues are currently investigating a novel autologous tibial tendon-derived adult stem cell approach for repairing and healing the damaged tendon, which is the underlying cause of the deformity.¹
Encouraging results from an initial preclinical investigation were described in a presentation at the 2015 American Foot and Ankle Society's Summer Meeting in California; it was chosen as a finalist for the L. Goldner Award for best basic science article. Dr. Aydogan explains, "We isolated tendon-specific stem cells from the posterior tibial tendons of three patients with PTTD who were undergoing surgical repair. After six weeks in co-culture with tendon pieces, the stem cells began to differentiate into tenocytes. At 10 weeks, the tenocyte colony began to exhibit tendon structure." (Figure) Adult stem cell characteristics and chondrogenic differentiation were confirmed using a combination of gene expression analysis and immunocytochemistry. This is the first time that human tendon stem cells have been isolated and successfully cultured to differentiate into tenocytes, with the potential to form healthy tendon tissue.
The findings set the stage for developing a stem cell clinical treatment of PTTD, where cells derived from the patient's own diseased PTT can be cultured, differentiated and expanded, then used to heal the damaged tendon. Dr. Aydogan describes a number of possibilities, "Autologous stem cell-derived tenocytes could be loaded onto an artificial scaffold, which could then be placed at the site of tendon damage. Another possibility is to inject the cells directly into the tissue. More research, including investigations in an animal model of tendinopathy, is needed to determine whether a stem cell approach will be clinically viable for PTTD."
Because PTTD is chronic and progressive, treatment is needed to maintain daily function and the ability to walk unaided. The damaged tendon has a very limited potential for self-repair, with a limited blood supply and a small number of stem and progenitor cells. Surgical treatment of PTTD is usually a complex, major intervention that involves excision of the damaged tendon; it does not restore normal range of motion. Dr. Aydogan says, "Patients with PTTD usually present to us at stage 2 or 3. With stage 2 PTTD, [if conservative management fails], tendon transfer with reconstruction can be done, but in the third stage the foot becomes rigid and triple arthrodesis is usually needed. In the last stage 4, the ankle starts to be affected and ankle arthritis can occur." In all surgical cases, post-operative recovery is lengthy.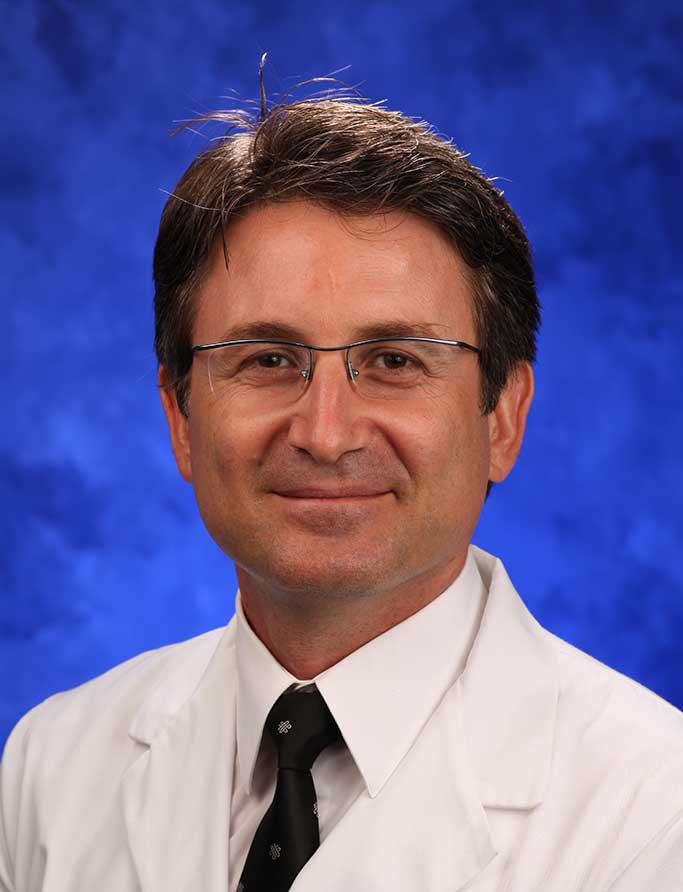 Associate Professor, Orthopaedics and Rehabilitation
Orthopaedic Surgeon, Foot and Ankle Specialist
Phone: 717-531-4801
Email: uaydogan@pennstatehealth.psu.edu
Fellowship: Surgery, foot, Duke University School of Medicine, Durham, N.C.
Residency: Orthopaedic surgery, Ege University Faculty of Medicine, Izmir, Turkey
Medical School: Hacettepe University, Ankara, Turkey
Connect with Penn State Bone and Joint Institute on Doximity
References
Aydogan U, Pandey MK, Niyibizi C, Vrana KE, Carkaci-Salli N. A novel method for differentiation of stem cells derived from diseased posterior tibial tendon to normal tenocytes. Presented as a podium presentation at the American Foot and Ankle Society Summer Meeting, July 15-18, 2015, Long Beach California.