Combined Use of the Ilizarov Technique and Taylor Spatial Frame in Severe Lower Extremity Trauma
Severe lower extremity trauma often results in the loss of bone, muscle, and skin. Reconstruction of these injuries is extremely challenging due to the amount of bone that must be reconstructed and the size of wounds that must be closed. Wound coverage is usually achieved with the use of a microvascular free flap procedure performed by plastic surgeons. In this technique, healthy tissue is brought to the damaged region and attached to the local blood vessels to allow it to live and grow. Restoration of the lost bone can be accomplished with repeated massive bone grafting, but this is often unreliable.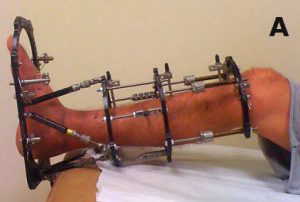 J. Spence Reid, MD, Penn State Bone and Joint Institute explains, "The Ilizarov technique, coupled with the recently developed Taylor spatial frame offers an alternative approach, that while labor intensive, is very reliable and precise in restoring missing bone." This technique was pioneered by the Soviet orthopaedic surgeon, Gavriil Abramovich Ilizarov and employs a circular external fixation frame (figure A) with percutaneous wires and pins attached to metal rings to move bone segments from the outside of the skin. The Taylor spatial frame is a refinement of the original frame and differs from the original in that the rings are connected by six angled struts that are adjusted by the patient. The daily position of each strut is determined by the use of a computer program providing accuracy down to one millimeter.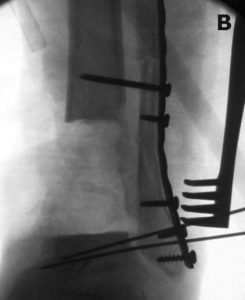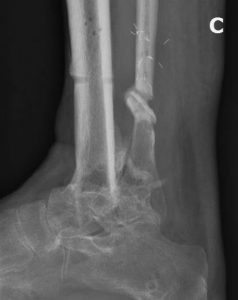 "The ability to combine the bone transport capabilities of the classic Ilizarov technique with the fine-tuning of translation and angulation of the computer-assisted Taylor Spatial Frame has allowed us to reconstruct severe bone injuries much more precisely than ever before," comments Reid. A combination of the Ilizarov and Taylor spatial frame was recently applied in the case of a patient with a severe ankle injury and loss of two inches of bone, including the ankle joint (figure B). "What was unique about this case was the use of the classic bone transport technique in the upper part of the leg to restore bone and the spatial frame in the lower part of the leg to allow very precise positioning of the ankle fusion," explains Reid. Figure C shows the excellent position of the ankle fusion.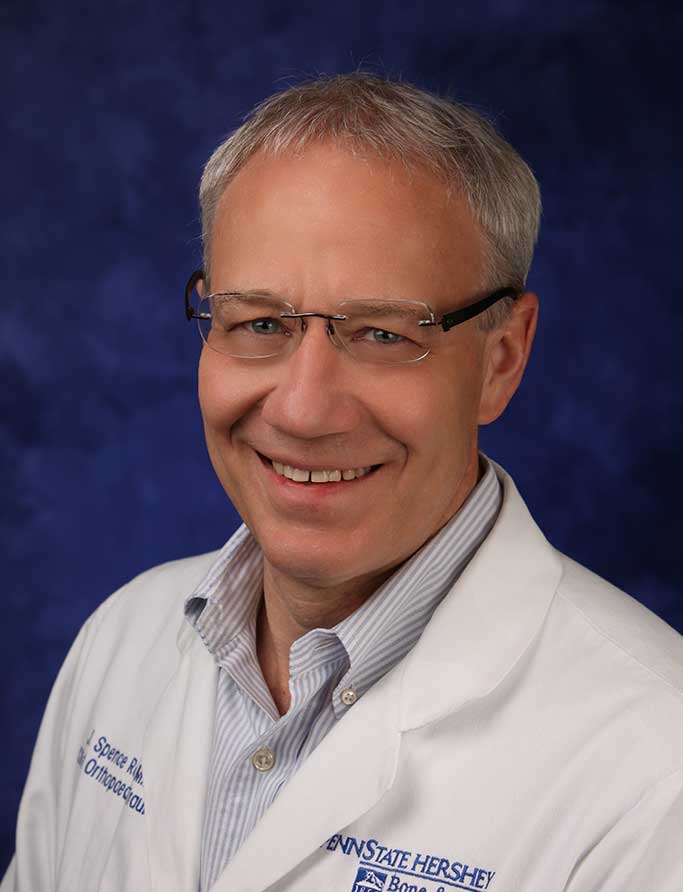 Orthopaedic Surgeon, Trauma
Professor, Orthopaedics and Rehabilitation
Phone: 717-531-1363
Email: jreid@pennstatehealth.psu.edu
Fellowship: Orthopaedic trauma, R. Adams Cowley Shock Trauma Center, Baltimore, Maryland
Residency: Orthopaedic surgery, Penn State Health Milton S. Hershey Medical Center, Hershey, Pa.
Medical School: Penn State College of Medicine, Hershey, Pa.
Connect with Penn State Bone and Joint Institute on Doximity