Club Foot: Ponseti Treatment Offers Long-Term Success
Club foot is a congenital deformity that, if left untreated, can cause lifelong disability. William L. Hennrikus, MD, explains, "Club foot is relatively common, affecting about one of every 1,000 newborns and occurs more often in boys. Siblings are also at higher risk (about four in 100)." The deformity involves the bones, blood vessels, muscles, and tendons of the lower leg (see figure A) and is linked to genetic and environmental factors. Infants with club foot can have other conditions, such as spina bifida or arthrogryposis.
Hennrikus notes that, "X-rays aren't needed for most patients with club foot, but they can be indicated for complicated or recalcitrant cases." Treatment usually begins soon after birth. In the past, surgery was the standard of care, including release or lengthening of numerous tendons, ligaments, and fascia. In some cases additional surgeries are necessary later in childhood. Hennrikus says, "The more conservative, minimally operative Ponseti method has gained almost universal acceptance in the past decade, based on longterm success rates of more than 90 percent."

All three pediatric orthopaedists at Penn State Children's Hospital— Hennrikus, Kristi Fortuna, MD, and Doug Armstrong, MD— practice the Ponseti method. Originally proposed [in the 1940s] by Ignacio Ponseti, MD, of the University of Iowa, this approach begins with the club foot being manipulated and stretched, then gradually brought into normal position using a series of casts that are changed weekly. "After about six to eight casts, I perform a small surgery — Achilles tenotomy — to lengthen the tendon and bring the foot into the corrected position. A final cast is placed for an additional four weeks," says Hennrikus.
Treatment continues after cast removal, with the infant's feet placed in braces (see figure B) that are worn continuously for three months. The child then wears the braces at night or when napping until age 4. "Prognosis is excellent, with 90 percent of patients showing little to no deformity and a normal gait," explains Hennrikus. He adds, "A large part of this success depends on the degree to which parents comply with the brace regimen. When parents are fully compliant, only 3 to 4 percent of children with club foot need additional surgery. With poor compliance, about 60 percent need more surgery."
Hennrikus comments, "Because we see about two cases of club foot every week, our team has experience treating this condition successfully and helping parents to feel reassured and satisfied that their child has an excellent chance for full recovery."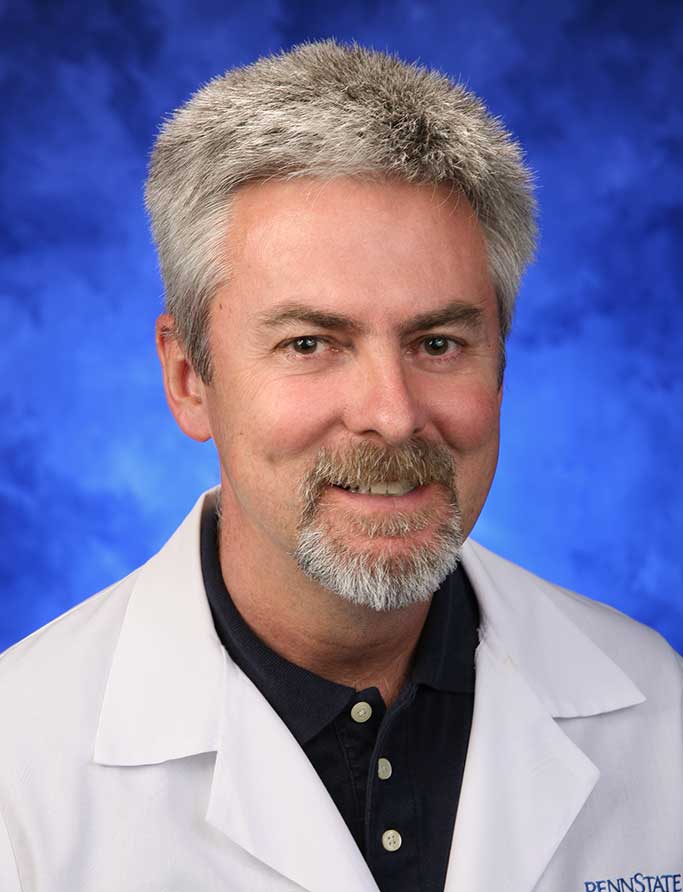 Professor, orthopaedics and rehabilitation
Medical director, pediatric Bone and Joint Institute clinic
Surgeon, pediatric orthopaedics
Phone: 717-531-4826
Email: whennrikus@pennstatehealth.psu.edu
Fellowship: Pediatric orthopaedics, Harvard Medical School, Boston, Massachusetts
Residency: Orthopaedic surgery, Balboa Naval Hospital, San Diego, California
Medical School: Georgetown University School of Medicine, Washington, DC
Connect with William L. Hennrikus, MD, on Doximity