Bisphosphonate-related Atypical Femur Fractures: Detection and Management
With the prevalence of osteoporosis expected to rise in the coming years, early recognition and management of bisphosphonate-related atypical femur fractures will become increasingly important. Edward J. Fox, MD, explains, "In many cases, osteoporosis is treated with long-term bisphosphonate therapy, which suppresses osteoclast-mediated bone turnover. With prolonged bisphosphonate use (more than five years), some patients (about one in 1,000) develop atypical femur fractures." Atypical femur fractures are stress fractures that usually occur in the proximal one-third of the diaphyseal bone, but can occur more distally, too; beginning in the lateral cortex and gradually progressing medially (see figure below).
Fox adds, "With atypical fractures, a small 'beak' of bone forms on the lateral femur surface and this is where the fracture begins." This contrasts with more typical stress fractures that occur in the medial portion of bone and progress laterally. "Clinically, when a patient with osteoporosis presents complaining of thigh and hip pain that's unrelated to any acute injury, I always ask about history of bisphosphonate treatment. It's important to obtain X-rays not only of the hip joint but also the femur shaft; otherwise the problem may go undetected or misdiagnosed," advises Fox. In most cases, conservative treatment is effective.
It is also important to obtain X-rays of the opposite femur too, since atypical stress fractures often occur bilaterally. "I recommend that patients discontinue bisphosphonate use and use crutches or a walker for eight to twelve weeks. For some patients, I may also prescribe Forteo (teriparatide – a recombinant human parathyroid analog), an anabolic agent to treat osteoporosis which is given daily by subcutaneous injection; studies have also shown that this can aide in fracture healing (off-label use). If proper healing doesn't occur radiographically or symptomatically, then we consider surgical options, such as prophylactic fixation of the femur. With these approaches, nearly all patients will eventually be able to resume normal daily activities."
The exact mechanism by which bisphosphonates cause atypical femur fractures is unknown. Their rare occurrence has hampered rigorous clinical investigations into etiology, management, and prevention. A recent task force report1 noted research showing that bisphosphonate-mediated suppression of osteoclast activity does not allow clearance of damaged bone fragments that build up on the cortical bone surface during normal daily activities; with this, bone strength gradually decreases, leading to eventual fracture.
Fox explains, "We know that risk of these fractures rises with increasing duration of bisphosphonate exposure, particularly after five years. Bisphosphonates are stored in bone matrix, with a half-life of at least eight years. To decrease drug over-exposure and risk of atypical fracture, "drug holidays" (transient drug discontinuance) have been theorized as possibly useful, since accumulated drug will gradually be released, exerting beneficial effects. Studies are underway to see if this is actually the case. For a patient with five years of bisphosphonate therapy, I usually recommend discontinuing the drug for one to two years, with follow-up DEXA scans while off the drug; if bone density decreases, they go back on treatment. After this 'holiday,' the patient may choose to resume original treatment or switch to an alternate type of drug."
Fox also notes, "Until studies elucidate the exact mechanism, the at-risk population, and the ideal treatment for bisphosphonate related atypical fractures, clinicians must continue to make rational treatment choices, carefully weighing benefits and risks for individual patients."
Reference
Shane E, Burr D, Ebeling PR,et al.; American Society for Bone and Mineral Research. Atypical subtrochanteric and diaphyseal femoral fractures: report of a task force of the American Society for Bone and Mineral Research. J Bone Miner Res. 2010 Nov;25 (11):2267-94. Erratum in: J Bone Miner Res. 2011 Aug;26(8):1987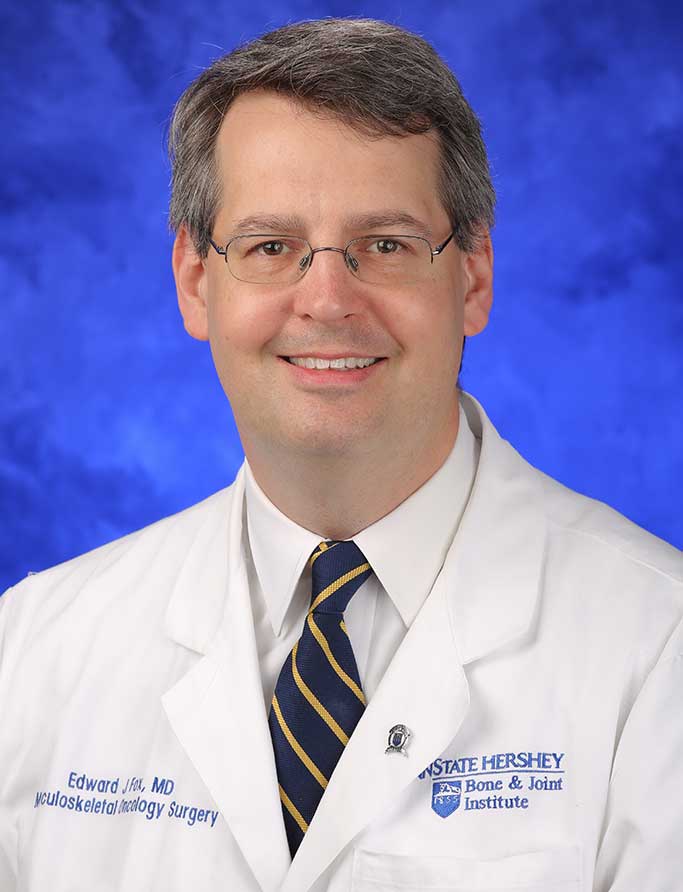 Professor, orthopaedics and rehabilitation
Surgeon, orthopaedics and musculoskeletal oncology
Phone: 717-531-4816
Email: efox1@pennstatehealth.psu.edu
Fellowship: Musculoskeletal oncology surgery, Massachusetts General Hospital—Harvard Medical School, Boston, Massachusetts
Residency: Orthopaedic surgery and general surgery, Stony Brook University School of Medicine, Stony Brook, New York
Medical School: University of Rochester School of Medicine and Dentistry, Rochester, New York
Connect with Edward J. Fox, MD, on Doximity