Transcatheter Aortic Valve Replacement (TAVR) Expands Options for Inoperable Severe Aortic Stenosis Patients
Surgical aortic valve replacement is extremely low-risk for most patients. However, a significant number of patients are at high-risk for surgical valve replacement or are ineligible for surgery because of comorbidities. The less invasive TAVR procedure allows a new valve to be inserted within the native, diseased aortic valve, and can be performed utilizing multiple approaches (e.g., transfemoral, transapical, or transaortic).¹
Penn State Heart and Vascular Institute is unusual in its balanced case mix, according to chief of cardiac surgery, Walter E. Pae, Jr., MD, "Our practice is fairly evenly divided among congenital pediatric heart defects, adult coronary disorders, and adult cardiac valve abnormalities. We perform up to 100 aortic valve replacements per year." Interventional cardiologist Mark Kozak, MD, concurs, noting that coronary disease is the focus of many institutions, due to its far greater frequency.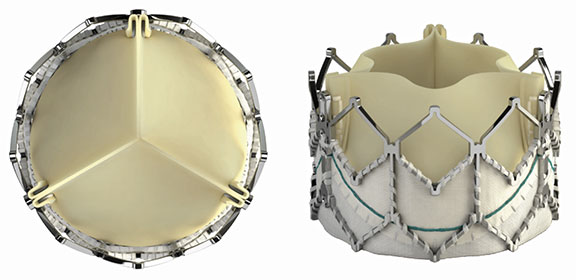 At Penn State Health Milton S. Hershey Medical Center, surgeons use the Edwards SAPIEN XT TAVR device, which has been implanted in close to 70,000 patients worldwide and is preferred, due to its versatility and low incidence of conduction disturbances. The safety and effectiveness of TAVR was studied in the PARTNER (Placement of AoRtic TraNscathetER Valves) II Trial in the United States, which included more than 3,300 patients in two cohorts. Cohort A compared TAVR to surgical AVR in intermediate and high-risk patients; Cohort B compared the first generation SAPIEN transcatheter heart valve with the second generation SAPIEN XT transcatheter heart valve in inoperable patients. In the inoperable cohort, 77.6 percent of SAPIEN XT valve patients survived to one year.2 Eighty-eight percent of both operable and inoperable SAPIEN XT valve patients were in New York Heart Association (NYHA) category I or II at one year.2 In that study, vascular complications (such as severe annulus rupture) were seen in 12.5 percent of patients, while the risk of stroke was 4.6 percent.2
Patients are identified as potential TAVR candidates by echocardiogram showing severe aortic stenosis. Physicians perform a risk analysis with the Society of Thoracic Surgeons (STS) Risk Calculator to determine treatment, and in high-risk or inoperable patients, they begin evaluation for TAVR. At Penn State Hershey, cardiovascular surgeons and interventional cardiologists work closely with anesthesiologists to ensure that the largely elderly and frail TAVR patient population spends as little time as possible under anesthesia. Says Kozak, "We've been able to send between one-quarter and one-third of our patients home within forty-eight hours, a rate comparable to that achieved by facilities performing percutaneous aortic valve replacement, which requires no general anesthesia whatsoever."
Both cardiologists and cardiac surgeons are part of the Heart and Vascular Institute, with skill sets of each discipline contributing to a successful TAVR result. This cooperation, as well as the presence of a specialty outpatient clinic just steps away from the main hospital, forms the core of the Heart and Vascular Institute's multidisciplinary approach to TAVR. Pae adds that the superior infrastructure present at a teaching hospital – including intensive care and extracorporeal mechanical oxygenation (ECMO) – helps improve patient outcomes, as well.
Associate Professor, Medicine and Radiology
Interventional Cardiologist
Phone: 717-531-5888
Phone: mkozak@pennstatehealth.psu.edu
Fellowship: Cardiology, University of Utah Hospital and Clinics, Salt Lake City, Utah
Residency: Internal medicine, Johns Hopkins University Hospital, Baltimore, Maryland
Medical School: Johns Hopkins University, School of Medicine, Baltimore, Maryland
Connect with Mark Kozak, MD, on Doximity
References
http://newheartvalve.com/hcp/treatment-options#sthash.dDm92jai.dpbs. Accessed January 26, 2015.