Innovative Solution to Treat Portal Vein Hypertension
The Transjugular Intrahepatic Portosystemic Shunt (TIPS) procedure has long been used to treat portal vein hypertension in patients with cirrhosis and other conditions, prior to liver transplant surgery, however, it could not be used in those with a complete portal vein occlusion. 1 The transsplenic approach allows interventional radiologists (IRs) to bypass the liver.1 Penn State Health Milton S. Hershey Medical Center is one of a few teaching hospitals in Pennsylvania to offer this innovative approach.
In the transsplenic approach, clinicians use a splenic sheath and lasso snare, transverse the spleen and continue the procedure using X-ray, achieving end-to-end anastomosis, which allows for balloon angioplasty in the blocked vein and facilitates completion of the TIPS. Portal veins are patent and anatomically normal nearly 80 percent of the time when imaged months later.
Harjit Singh, MD, FSIR, professor of radiology, surgery and medicine, says, "It used to be a very binary process—traditional TIPS or nothing—so the transsplenic approach has made a massive difference. We are now giving patients the ability to receive a TIPS procedure which improves their quality-of-life. Recent data shows that liver transplant patients have improved surgical outcomes following the procedure." IRs at Hershey Medical Center have been performing TIPS via the transsplenic approach for a year, averaging one per month. The initial trial published in 2012 included 11 cases.3
The Penn State interventional radiology group has successfully leveraged its combined procedural experience to integrate this technique into their practice. Recent research suggests that the transsplenic approach to portal vein recanalization (PVR)-TIPS placement may allow for liver transplantation in previously ineligible patients.4
Case History:
61-year-old male patient with Nonalcoholic Steatohepatitis (NASH)-induced cirrhosis
Presented to Cardiovascular Interventional Radiology at Milton S. Hershey Medical Center for consideration of Portal Vein Recanalization with TIPS placement
Presented with significant ascites
Not originally considered a TIPS candidate based on non-occlusive thrombus in his main portal vein
PVR and TIPS using the transsplenic approach was successfully performed in March 2015
Follow-up invasive imaging in May 2015 demonstrated the TIPS to be widely patent and the portal vein thrombus to be markedly improved
Patient was seen in April 2016, clinically stable with no further drainage of his ascites needed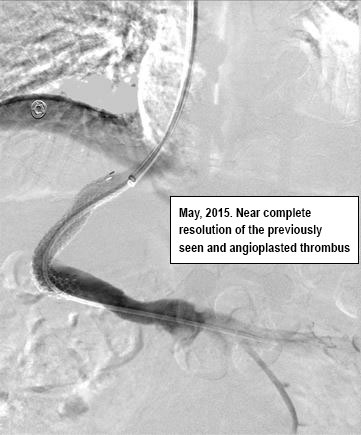 ---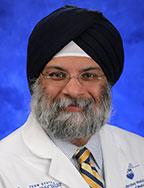 Harjit Singh, MD, FSIR
Professor of Radiology, Surgery and Medicine
Interventional Radiologist
PHONE: 717-531-5416
E-MAIL: hsingh@pennstatehealth.psu.edu
FELLOWSHIP: Radiology, vascular and interventional, Johns Hopkins University Hospital, Baltimore, Md.
RESIDENCY: Radiology, diagnostic, Albany Medical Center, Albany, N.Y.
MEDICAL SCHOOL: Albany Medical College, Albany, N.Y.
Connect with Dr. Singh on Doximity
---
References:
Habib A, Desai K, Hickey R, Thornburg B, Vouche M, Vogelzang R, et al. Portal vein recanalization — transjugular intrahepatic portosystemic shunt using the transsplenic approach to achieve transplant candidacy in patients with chronic portal vein thrombosis. J Vasc Interv Radiol. 2015. 1-8.
Singh H and Neutze J. eds. Radiology Fundamentals: Introduction to Imaging and Technology. 5th ed., New York, New York. Springer; 2015:281-285.
Chu HH, Kim HC, Jae HJ, Yi NJ, Lee KW, Suh KS, et al. Percutaneous transsplenic access to the portal vein for management of vascular complication in patients with chronic liver disease. Cardiovasc Intervent Radiol. 2012 Dec;35(6):1388-95.
Salem R, Vouche M, Baker T, Herrero JI, Caicedo JC, Fryer J, et al. Pretransplant portal vein recanalization — transjugular intrahepatic portosystemic shunt in patients with complete obliterative portal vein thrombosis. Transplantation. November 2015. 99;11:2347-2355.