Heart and Vascular Institute Outpaces National Rate of Transradial versus Transfemoral Artery Catheterization for PCI
Transradial artery (TRA) access for percutaneous coronary intervention (PCI) versus transfemoral artery access, is a relatively recent development in medicine, with femoral access often the default for many interventional cardiologists since balloon angioplasties were first performed.1
Ongoing data supports that TRA PCI involves less bleeding risk, a reduced rate of vascular complications, lower costs, and greatly improved patient comfort.1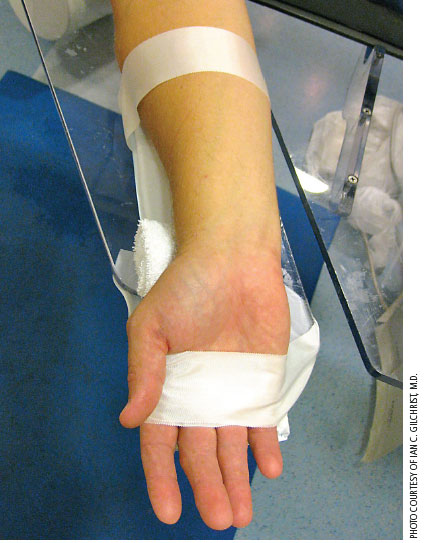 One study of more than 250 patients demonstrated that forearm access is safer than using the femoral vessels.2 However, the United States has lagged behind Europe, Asia, and other developed regions in the adoption of TRA procedures.1 China uses the technique about 80 percent of the time, and the European Society of Cardiology has recently recommended a "radial first" approach.1 According to Ian Gilchrist, MD, professor of medicine, Penn State Heart and Vascular Institute, the United States currently averages a 30 percent rate of TRA coronary intervention procedures per year.
At Penn State Hershey, however, the rate of use ranges from 60 to 70 percent, with some practitioners using the procedure in 90 percent of cases, according to Gilchrist. Increased prevalence of TRA for PCI is attributed to the extensive training program in place at Hershey Medical Center, as TRA has a steep learning curve.1 Gilchrist and colleagues pioneered the Transradial Instruction Program (TRIP) training supported by the Society for Coronary Angiography and Interventions (SCAI). The greatest concentration of TRA usage occurs in academic medical centers with fellowship or residency programs, suggesting new physicians will increase its usage over time.1
In addition to their broad adoption of TRA, practitioners at the Heart and Vascular Institute participate in ongoing research, and have just completed the "Study of Access Site for Enhancement of PCI for Women (SAFE-PCI for Women)" trial. Preliminary data already shows improved outcomes and far fewer bleeding complications with TRA than with the transfemoral approach.
Another contributing factor to an increase in TRA usage is support from hospital administrators. "TRA reduces bleeding complications and there are several papers now showing that it's a far more cost-effective way of doing PCI," says Gilchrist. Cost savings can be up to $400 per patient.1
Gilchrist emphasizes that patient comfort is vastly increased with TRA, which can now be performed as an outpatient procedure. Says Gilchrist, "Even if the mortality data were exactly the same, the patient comfort and patient preference would be worth the switch."
Professor, Medicine
Interventional Cardiologist
Phone: 717-531-5888
Email: icg1@psu.edu
Fellowship: Invasive cardiology, Cooper Hospital-University Medical Center, Camden, New Jersey; Cardiology, St. Luke's- Roosevelt Hospital Center, New York, New York
Residency: Internal medicine, St. Luke's-Roosevelt Hospital Center, New York, New York
Medical School: Columbia University College of Physicians and Surgeons, New York, New York
Connect with Ian C. Gilchrist, MD, on Doximity
References:
1. citoday.com/2014/06/transradial-artery-catheterization-in-the-united-states/. Accessed August 5, 2014.
2. ncbi.nlm.nih.gov/pubmed/16532498. Accessed August 5, 2014.