Less-Invasive Treatment Offers Alternative for Mitral Valve Regurgitation Patients
Mitral regurgitation (MR) is the most frequently reported valve disease in the United States, twice as common as aortic valve disease. Nearly one in 10 people, age 75 or older, has a moderate or severe case, and degenerative mitral regurgitation affects around 2.5 percent of the general population.1 The gold standard for treatment has long been open heart surgery but, due to co-morbidities that become more common with age, many patients are not candidates.
Interventional cardiologist Pradeep Yadav, MD, Penn State Heart and Vascular Institute, along with his structural heart team at Penn State Health Milton S. Hershey Medical Center, has opened the door to valve repair for many patients by offering a less invasive procedure using the MitraClip® system. This fully percutaneous procedure is done via a vein in the leg in the cardiac catheterization laboratory. The MitraClip device clips together a small area of the mitral valve leaflets, which continue to open and close on either side of the clip. This allows blood to flow on both sides while reducing the flow of blood in the wrong direction.
"The MitriClip is an incredible piece of engineering," Dr. Yadav says. "It enables cardiac surgeons to work remotely and maneuver the device in a 360-degree fashion, however the procedure demands." The implantable device is manufactured with a metal alloy (nickel titanium) and a polyester cover designed to promote tissue growth. These durable materials are commonly used in cardiovascular implants2 and never need to be replaced.
Dr. Yadav, a specialist in transcatheter procedures for mitral valve and aortic valve repair and replacement, as well as stroke prevention in atrial fibrillation, works closely with cardiac surgery, anesthesiology and radiology and imaging colleagues for the best possible outcome for every patient. He emphasizes that the MitraClip procedure provides a viable option to patients – even those older than 80 years of age – who otherwise would not be a candidate for open heart surgery and could only be treated medically. Patients are ambulatory within hours, often get discharged the next day, have fewer heart failure-related hospitalizations and report better quality of life, due to less mitral regurgitation.
The MitraClip procedure is just one procedure offered by Penn State Heart and Vascular Institute. Dr. Yadav cites the Penn State specialists' broad array of skills: "As a strong comprehensive cardiac program, we are able to treat a wide variety of conditions under one roof with excellent outcomes – percutaneous valve replacements and heart transplants, among many other conditions. With such a wide skill set, the heart team considers each case very carefully to determine the best approach for treatment, whether that is through open surgery, minimally invasive surgery or using a percutaneous method."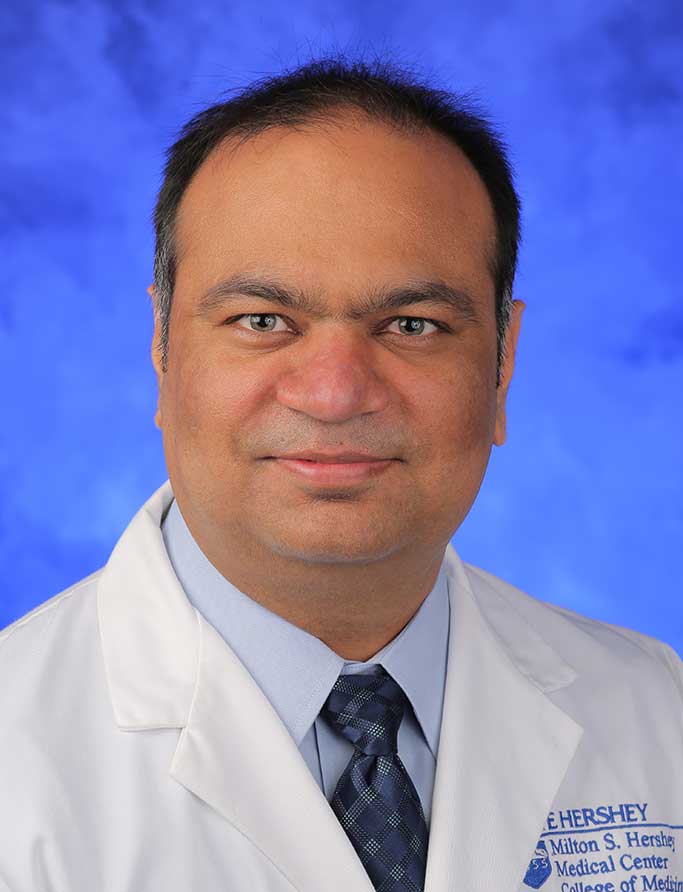 Interventional Cardiologist, Penn State Heart and Vascular Institute
Assistant Professor, Penn State College of Medicine
Phone: 717-531-5888
Email: pyadav@pennstatehealth.psu.edu
Fellowship: Structural heart disease, Henry Ford Hospital, Detroit, Mich.; Interventional cardiology, University of North Carolina School of Medicine, Chapel Hill, NC; Cardiovascular disease, Penn State Health Milton S. Hershey Medical Center, Hershey, Pa.
Residency: Internal medicine, Penn State Health Milton S. Hershey Medical Center, Hershey, Pa.
Medical School: Government Medical College, Surat
Internship: Internal medicine, Penn State Health Milton S. Hershey Medical Center, Hershey, Pa.
Connect with Division of Cardiology on Doximity
References:
Lloyd-Jones D, Adams RJ, Brown TM, et al; American Heart Association Statistics Committee and Stroke Statistics Subcommittee. Heart disease and stroke statistics—2010 update: a report from the American Heart Association. Circulation. 2010;121(7):e46-e215.
MitraClip Transcatheter Mitral Valve Repair Frequently Asked Questions.(n.d.) Retrieved from http://mitraclip.com.