Research Track Resident Advances Thyroid Cancer Genomics
The research efforts of Christopher Pool, MD, a resident in Otolaryngology – Head and Neck Surgery at Penn State Health Milton S. Hershey Medical Center, focus on thyroid cancer genomics. He is continuing the research started by the inaugural research track resident, Darrin Bann, MD, PhD. The research is based on creating a mouse model for human thyroid cancer using a DNA editing technique known as CRISPR (Clustered Regularly Interspaced Short Palindromic Repeat).
Additionally, Dr. Pool is working to identify a thyroid cancer molecular expression profile to help thyroid surgeons molecularly determine benign from malignant disease. His presentation of this work in June 2017 won first place at the Pennsylvania Academy of Otolaryngology annual meeting. He is also using a new technology to study the large-scale genomic variations in thyroid cancer that may lead to the discovery of driver mutations currently undetectable by other technologies.
Dr. Pool completed his undergraduate degree in molecular biology at Yale University, and afterward spent two years at the Walter Reed Army Institute of Research developing a malaria vaccine. While in medical school at the Icahn School of Medicine at Mount Sinai, he was invited to complete a one-year research fellowship in the field of otolaryngology. During his research fellowship, Dr. Pool combined his interests in both infectious diseases and reconstructive surgery by investigating surgical site infections after free-flap surgery. His research led to new standards of care in the antibiotic regimen during free-flap reconstruction, under the guidance of Brett Miles, DDS, MD.
Dr. Pool was also involved in laboratory research investigating a compound that maintains the dormant state of a head and neck cancer cell line, preventing it from metastasizing, under the guidance of Julio Aguirre-Ghiso, PhD, professor of medicine, hematology and medical oncology and professor of otolaryngology.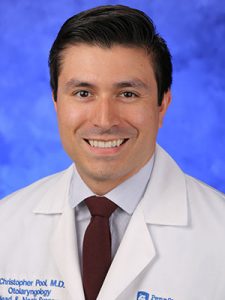 Christopher Pool, MD
Resident, Penn State Otolaryngology – Head and Neck Surgery
Phone: 717-531-8945
Email: cpool@pennstatehealth.psu.edu
Fellowship: Research Fellowship: Steven Sacks MD Research Fellowship in Otolaryngology, Icahn School of Medicine at Mount Sinai, New York City
Residency: Otolaryngology – Head and Neck Surgery; Research Track, Penn State Health Milton S. Hershey Medical Center, Hershey, PA.
Medical School: Icahn School of Medicine at Mount Sinai, New York City
Connect with Christopher Pool, MD, on Doximity