Laryngeal Surgeon Shares Lessons Learned From Partnership with Musical Theatre Students
In the same way ballet dancers rely on their feet, singers and actors use their voice as their instrument. That's why voice performers must take care to keep their vocal cords healthy throughout their life.
To help aspiring stage performers learn the basics of good vocal hygiene, laryngeal surgeon Dr. John Gniady, medical director of the Department of Otolaryngology – Head and Neck Surgery at Penn State Health Milton S. Hershey Medical Center, has forged a unique partnership with Penn State's Department of Musical Theatre.
In September 2019, members of the program's freshman class traveled from the Penn State campus in State College, Pa., to the Milton S. Hershey Medical Center. There, Gniady and speech pathologists Erin Kelly and Melissa Montano performed vocal cord screenings and offered tips to help the young singers protect their voices.
"Our goal was to get a baseline examination so, if these students have any voice issues down the road, we can have a better sense of what has changed," Gniady says.
Research shows that professional voice users are more prone to conditions such as microvascular lesions and their associated sequelae of vocal fold hemorrhage and laryngitis due to voice overuse. In addition, professional voice users face the same problems as other patients who see otolaryngologists, including laryngopharyngeal reflux, muscle tension dysphonia, fibrovascular vocal fold lesions such as nodules or polyps, cysts, vocal fold scarring, changes in vocal cord mobility and age-related changes.¹
"Many singers will start having vocal cord issues over the course of their careers," Gniady says. "We often see small lumps or bumps develop that can be signs of enlarged blood vessels. When those blood vessels become irritated or engorged due to vocal cord trauma, they may be at risk for rupture or bleeding."
Gniady and his team gave the freshmen musical theatre students two levels of screening. First, each student completed a symptom questionnaire, self-reporting any concerns they were having with their vocal cord health.
Next, the students received a videostroboscopy examination. This screening, performed with a flexible telescope, uses strobe light to see the vibration of the vocal cords. "Vocal cords vibrate from 120 to 240 times per second during normal speech depending upon a person's frequency of voice," Gniady says. "The naked eye can't see that. But the strobe light allows you to essentially see the vibration pattern in slow motion."
Each student received a digital copy of the screening. Students also learned about the anatomy and physiology of the vocal system and received education about vocal hygiene, including the importance of eating well, staying properly hydrated, avoiding throat irritants such as smoking and reducing caffeine intake.
"The students loved it," Gniady says. "It's rare for them to see the way their vocal cords work, so it was really meaningful to them."
While asymptomatic patients typically don't receive videostroboscopy screening, it is useful in providing early recognition of vocal cord issues in professional voice users. Patients who experience vocal cord issues should receive a videostroboscopy screening within 12 weeks of the first sign of symptoms.
Working with singers and stage professionals is nothing new to Gniady. He performed his fellowship in laryngeal surgery in 2013 at Massachusetts General Hospital's Center for Laryngeal Surgery. There, he worked alongside Dr. Steven Zeitels, the surgeon who performed vocal cord microsurgery on pop singer Adele in 2011.² "He's worked with Sam Smith, Christina Perri, Stephen Tyler, Julie Andrews and many other performers," Gniady says.
Energized by his fellowship training – and by his experience in working with freshmen students from the New England Conservatory of Music and Berklee College of Music in Boston – Gniady formed similar partnerships once he went into private practice. While practicing in Sarasota, Fla., he worked with vocalists from two top regional venues, the Sarasota Opera and the Asolo Repertory Theatre.
After arriving at Hershey Medical Center in August 2019, Gniady formed a similar partnership with John Simpkins, head of the Bachelor of Fine Arts Musical Theatre program at Penn State. Gniady plans to work with the new freshman musical theatre class in Spring 2021 and also hopes to extend the screenings and education to students in Penn State's Voice and Opera program.
"The more we can help young singers understand their vocal cords and improve their technique, the more we can head off problems that could develop down the road," he says.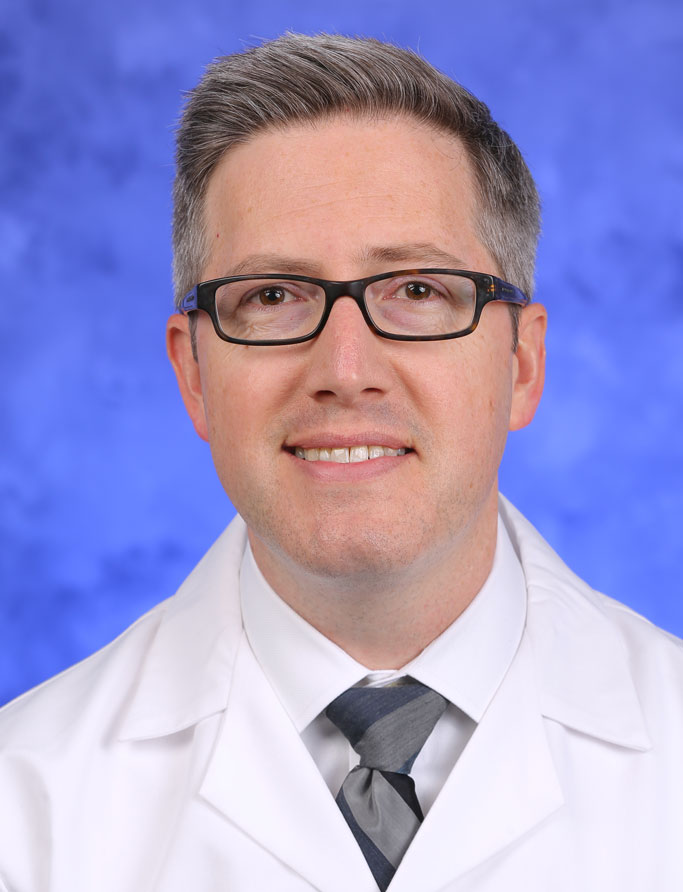 Assistant professor and medical director, Department of Otolaryngology – Head and Neck Surgery
Chief, Division of Communication Sciences, Penn State Health Milton S. Hershey Medical Center

Phone: 717-531-1455
Email: jgniady@pennstatehealth.psu.edu
Fellowship: Laryngeal Surgery, Massachusetts General Hospital, Boston
Residency: Otolaryngology-Head and Neck Surgery, Temple University Hospital, Pennsylvania
Medical School: Louisiana State University School of Medicine, New Orleans
Internship: Surgery, General, Temple University Hospital, Pennsylvania
Connect with John P. Gniady, MD, on Doximity
References
Franco R, Andrus J. Common diagnoses and treatments in professional voice users. Otolaryngol Clin North Am. 2007;1025-1061. doi: https://doi.org/10.1016/j.otc.2007.05.008
Jaslow R. Meet Adele's vocal cord surgeon, Dr. Steven Zeitels. CBS News website. https://www.cbsnews.com/news/meet-adeles-vocal-cord-surgeon-dr-steven-zeitels/. Published Feb. 13, 2012. Accessed Sept. 29, 2020.