Otolaryngology Department lab identifies novel gene mutation in familial thyroid cancer
Dr. Darrin Bann, an otolaryngology resident at Penn State Health Milton S. Hershey Medical Center and Penn State College of Medicine, with the Otolaryngology research team, identified a novel gene mutation in familial non-medullary thyroid cancers. The mutation is the only familial thyroid cancer-associated mutation identified in a gene that is predominantly expressed in thyroid tissue.
Thyroid cancer is the most common endocrine malignancy in the United States, with more than 62,000 diagnoses in 2015. There is a high degree of heritability in thyroid cancer compared to other cancers, with first degree relatives having a 5.5-fold increase in relative risk of disease. The study, published in a recent edition of Cancer Research, was developed to investigate genetic causes of familial non-medullary thyroid cancer.
Bann, an alumnus of Penn State College of Medicine's MD/PhD Medical Scientist Training Program, worked on the project with senior investigators Dr. David Goldenberg, chair of the Department of Otolaryngology – Head and Neck Surgery at the Milton S. Hershey Medical Center and the College of Medicine, and James Broach, chair of the Department of Biochemistry and Molecular Biology and director of the Institute for Personalized Medicine at Penn State College of Medicine.
The research team studied a family where thyroid cancer occurred in eight people across four generations. Using next generation sequencing, they were able to identify a mutation in a gene called DUOX2. This gene carries instructions for producing an enzyme called dual oxidase 2, which is involved in the production of hydrogen peroxide in the thyroid gland.
Through a series of biochemical analyses, the researchers found that dual oxidase 2 was still functional, despite being mutated. They determined that the mutated form of the enzyme was producing more hydrogen peroxide than the wildtype enzyme.
Taking their findings a step further, the investigators tested whether dual oxidase 2 expression was also dysregulated in sporadic thyroid cancer. By genotyping 64 individuals with sporadic non-medullary thyroid cancer, they determined that there was an association between an individual having the rs965513 thyroid cancer risk polymorphism and increased expression of the DUOX2 gene.
Bann noted that this provides strong evidence that dysregulation of hydrogen peroxide is a probable mechanism underlying genetic predispositions to developing thyroid cancer. This finding may have significant translational implications, including the potential to identify ways to prevent the oxidative damage resulting from excess hydrogen peroxide production.
"If we can identify a series of common mutations that increase oxidative damage in those who are at risk, we could potentially mitigate some of the risk by treating those patients with antioxidants," Bann said.
As a result of this study, the researchers have multiple opportunities to expand on their findings. The mutation itself could be useful in developing animal models for studying sporadic thyroid cancer, which could shed new light on the mechanisms underlying thyroid cancer development or help identify therapeutic targets for treatment. Bann says that it is essential to test other individuals and families with non-medullary thyroid cancers to see if they have the genetic mutation of DUOX2.
Other investigators from Penn State College of Medicine include Kathryn Sheldon, Kenneth Houser, Lan Nguyen, Joshua Warrick and Maria Baker.
Qunyan Jin and Glenn Gerhard of the Lewis Katz School of Medicine at Temple University also contributed to the study.
This work was supported, in part, by a grant with the Pennsylvania Department of Health using Tobacco CURE funds to Dr. David Goldenberg.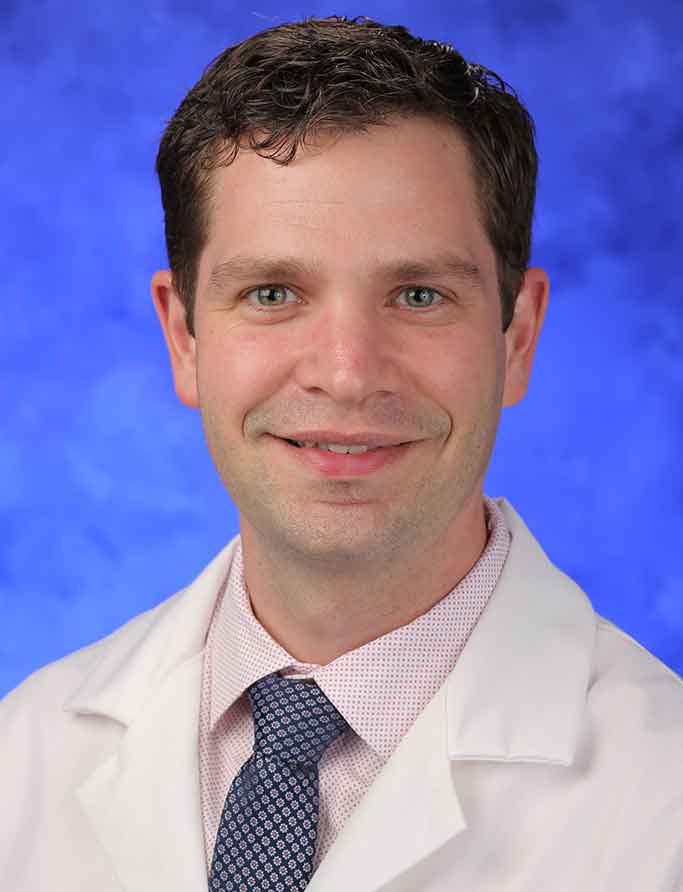 Chair, Department of Otolaryngology – Head and Neck Surgery
Professor, Departments of Otolaryngology – Head and Neck Surgery, Surgery and Medicine
Steven and Sharon Baron Professor of Surgery
Phone: 717-531-6822
Email: dgoldenberg@pennstatehealth.psu.edu
Fellowship: Head and Neck, Surgical Oncology, Johns Hopkins Hospital, Baltimore
Residency: Head and Neck, Surgical Oncology, Rambam Medical Center, Haifa, Israel
Medical School: Ben Gurion University of the Negev, Beersheba, Israel
Internship: Rotating, Soroka Medical Center, Beersheba, Israel
Connect with David Goldenberg, MD, on Doximity