Thanks to Four Diamonds, the Pediatric Cancer Experimental Therapeutics Program Collaborates to Save Lives
Medical science has progressed significantly in the treatment of pediatric cancers; however, certain tumors remain resistant, leading to poor prognoses and survival rates.1 "With experimental therapeutics, we focus on those pediatric cancer patients for whom conventional treatment has failed," says Valerie Brown, M.D., Ph.D., clinical director, experimental therapeutics, Penn State Children's Hospital. "Our goal is to target these cancers more precisely to increase the cure rate and diminish the risk of patients developing short-term and long-term side effects."
Since its inception in 2010, the Pediatric Cancer Experimental Therapeutics Program has benefited from funding provided through Four Diamonds. Funding to Four Diamonds comes through The Penn State IFC/Panhellenic Dance Marathon, affectionately known as THON™, Mini-THON® and other community organizations.

Discovering effective therapies for highly treatment-resistant cancers requires a collaborative infrastructure of researchers to conduct clinical trials not typically available to a single institution. Currently, Children's Hospital is a member of the Pediatric Oncology Experimental Therapeutics Investigators' Consortium (POETIC), the Pediatric Blood and Marrow Transplant Consortium (PBMTC) and the Children's Oncology Group. Children's Hospital also recently became a member of the Neuroblastoma and Medulloblastoma Translational Research Consortium (NMTRC), a network of more than 20 universities, children's hospitals and institutions that offers a number of early phase clinical trials. Since October 2013, more than 20 patients have been enrolled in at least a dozen phase I and II trials, with five more set to begin shortly.
One pioneering trial conducted through the NMTRC, "Molecular-guided Therapy for the Treatment of Patients With Relapsed and Refractory Childhood Cancers," uses an individualized approach to determine optimal therapy based upon the molecular aberrations of each patient's tumor.2 Biopsies of the tumor(s) are obtained and, from a genomic analysis (also known as personalized or precision medicine), a report is generated detailing potential responses to more than 200 drugs and naturally occurring compounds. A panel of NMTRC members holds a "virtual tumor board" where the patient's case is reviewed, and a molecular-guided treatment plan is devised.
"Ultimately, our goal is simple: a future where pediatric cancer patients who were hopeless now have the hope of survival," says Dr. Brown. "The support we receive from Four Diamonds enables us to provide that hope."
---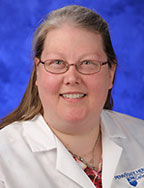 Valerie I. Brown, M.D., Ph.D.
Associate Professor of Pediatrics, Division of Pediatric Oncology/Hematology Clinical Director, Experimental Therapeutics
PHONE: 717-531-1042
E-MAIL: vbrown1@hmc.psu.edu
CLINICAL INTEREST: "My focus is to develop novel, biologically rational treatment regimens for children and adolescents with cancer, with a focus on relapsed Acute Lymphoblastic Leukemia and Hematopoietic Stem Cell Transplantation. My overarching goal is to provide 'hope for the hopeless.'"

---
References:
Klimo P Jr, Nesvick CL, Broniscer A, Orr BA, Choudhri AF. Malignant brainstem tumors in children, excluding diffuse intrinsic pontine gliomas. J Neurosurg Pediatr. 2015 Oct 16:1-9.
https://clinicaltrials.gov/ct2/show/NCT02162732. Accessed November 30, 2015.