Four Diamonds Pediatric Oncology Research Center Impacted More Than 500 Lives throughout Pennsylvania in 2014
More than 15,000 children are diagnosed with cancer each year in the U.S., and while 80 percent of children survive, one in five die within five years.1 Penn State Hershey is committed to improving those outcomes through its Four Diamonds' Pediatric Oncology Research Center. The Center has been led by Chief of Pediatric Oncology Barbara Miller, M.D., since 2005, and has grown substantially in that time.
The success of the Center involves all aspects of research, from basic science to translational research and clinical trials. Penn State Hershey pediatric hematology/oncology is funded, in part, by Four Diamonds, which supports pediatric oncology patients treated at Penn State Hershey Children's Hospital by providing financial assistance for three major missions: superior care, comprehensive support and innovative research.2
The first step in making major advances in cancer treatment involves understanding basic molecular pathways which result in uncontrolled cell proliferation, followed by design of therapies to block those pathways and the development of clinical trials. "The pediatric oncology division actively pursues this molecular-level research, and participates in more than 80 multi-center clinical trials. A number of these are phase 1 and phase 2 clinical trials, in which the majority of centers are not able to participate because of the infrastructure required," states Miller.
Unique to Penn State Hershey, Four Diamonds is a community-based fundraising program supported largely by student-run dance marathons (both at Penn State and at more than 180 elementary, middle and high schools) statewide. Penn State IFC/Panhellenic Dance Marathon, known as THON, is a yearlong effort to raise funds and awareness for the fight against pediatric cancer. THON is the largest student-run philanthropy in the world, and has raised more than $127 million for Four Diamonds since 1977.3
Additionally, Mini-THONs have raised more than $17 million for Four Diamonds during the past 22 years.
As area family practitioners and pediatricians choose referral locations for advanced care, Miller emphasizes that Penn State Hershey Pediatric Oncology Research Center offers advanced clinical trials for both standard and relapsed cancer patients, as well as a wide range of treatment options from its
Experimental Therapeutics Program. An additional benefit is a staff of national leaders in pediatric oncology and a recently constructed stand-alone Children's Hospital. In 2014-2015, Four Diamonds provided much-needed support for the medical and ancillary care expenses of 503 pediatric oncology patients, which remains a top priority of the program.
---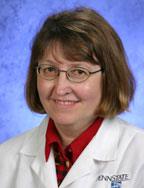 Barbara Miller, M.D.
Chief, Pediatric Hematology/Oncology
Christopher Millard Endowed Chair, Pediatric Oncology
PHONE: 717-531-1789 • E-MAIL: bmiller3@hmc.psu.edu
FELLOWSHIPS: Pediatric hematology/oncology, Children's Hospital Boston, Boston, Massachusetts; Hematology, Duke University Medical Center, Durham, North Carolina
RESIDENCY: Pediatrics, Duke University Medical Center, Durham, North Carolina
MEDICAL SCHOOL: Penn State College of Medicine, Hershey, Pennsylvania
---
References:
pennstatehershey.org/web/development/campaigns/fourdiamonds. Accessed June 7, 2015.
thon.org Accessed June 7, 2015.
To learn more about Four Diamonds and the assistance provided, please visit PennStateHersheyChildrensHospitalReport.org.