Customized Approach to Treating Pediatric Colorectal Conditions, Special Emphasis on Anorectal Malformations
Colorectal conditions in children can be debilitating and impact quality-of-life. Some conditions, like Hirschsprung's disease, pediatric pelvic developmental abnormalities and anorectal malformations, are present at birth. Other conditions, such as inflammatory intestinal diseases (Crohn's disease and ulcerative colitis), rectal prolapse and debilitating constipation occur later in infancy and childhood. Many of these conditions require surgical treatments.
Fortunately, help is close by at Penn State Hershey Children's Hospital with the Pediatric Colorectal Program directed by pediatric surgeon Dorothy V. Rocourt, M.D. Many children with pediatric colorectal conditions also suffer from constipation and poor bowel control; however, with proper bowel management, most can achieve continence. The program provides expertise in the treatment of these problems and related disorders, with a particular focus on bowel management in patients with anorectal malformations. Alissa Bergstresser, MSN, CPNP-PC, is the program manager for the Penn State Hershey Pediatric Colorectal Program, which also includes pediatric urologists, adolescent gynecologists, child psychologists, nutritionists and pediatric gastroenterologists who collaborate to develop a customized plan to meet each patient's needs.
In the face of a complicated medical history and a difficult condition, one patient's story shows the value of the unique multidisciplinary approach for such diagnoses. The male patient, age 10 when first treated, was referred to Children's Hospital after he required a colostomy for severe, intractable constipation and soiling after surgery for an anorectal malformation. He wore diapers and could not leave home to attend school. He was started on a bowel management program and, with the help of child psychologists, was able to comply with his treatment plan. An umbilical antegrade continent enema (ACE) operation was performed.1 As part of his daily routine, he flushes his colon using a catheter inserted through the umbilicus to mimic a normal evacuation. He no longer has a colostomy and, at age 13, wears regular underwear, not diapers. He has returned to school, participates in sports and has no dietary restrictions.
Currently, Dr. Rocourt and her colleagues are studying methods to reduce infection rates and length-of-stay after pull-through surgery for imperforate anus. The three-day length-of-stay compares favorably to large studies that report an average length-of-stay of five to seven days. Rocourt attributes the shorter stay and reduced infection rates to their standard protocol for pre-, intra- and post-operative care.
"Treatment of colorectal disorders in children can be complex," says Dr. Rocourt. "Expert, multi-disciplinary care provides hope for these children. Using medical and surgical treatments, continence and control can be achieved in most patients."
---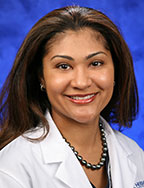 Dorothy V. Rocourt, M.D.
Director, Pediatric Surgical Research
Director, Pediatric Pelvic Developmental Abnormalities and
Anorectal Malformations Program
PHONE: 717-531-8342 • E-MAIL: drocourt@hmc.psu.edu
CARE PHILOSOPHY: "Each child is unique and our approach is to understand the child globally, i.e., psychological, medical and social needs, and then tailor their care for success."
---
Reference: