Challenging Case Benefits from Treatment Approach, Best Practices and Access to a Clinical Trial in Pediatric Brain Tumors
When a child develops a severe medical condition such as a brain tumor, it is natural for parents to want "the best care." Fortunately, Penn State Hershey Pediatric Neurology and Neurosurgery are nationally ranked repeatedly by U.S. News & World Report, and employ some of America's Top Doctors®. According to Mark S. Dias, M.D., professor of neurosurgery and director, pediatric neurosurgery, "The outstanding outcomes at Penn State Hershey Children's Hospital result from a multidisciplinary team that covers every aspect of patient care." This team includes pediatric neurosurgeons, pediatric oncologists, pediatric general surgeons, a dedicated Pediatric Intensive Care Unit (PICU) with board-certified pediatric critical care medicine specialists, pediatric neuroradiologists and specially-trained support staff such as pediatric nurses, therapists, Child Life specialists and neuropathologists.
All of these experts collaborated in the complicated case of Kaylahni Laboy.
Kaylahni presented at six months of age at another hospital's emergency department (ED) with a fever and listlessness. As brain cancer is so rare, it is often missed in patients so young, and she was diagnosed with a viral illness and sent home. Another ED visit followed shortly, resulting in another misdiagnosis.
Finally, bloodwork revealed an extremely elevated white blood cell count (20,000), so she was admitted to the hospital for intensive antibiotic therapy and a spinal tap was performed the next day. Shortly afterwards, she began having seizures, became unresponsive and was transferred to Penn State Hershey Children's Hospital. Physicians discovered unequal pupils and immediately ordered a CT scan, which revealed an enormous left-sided tumor, measuring approximately 8 cm by 9 cm, that took up more than a quarter of her brain.
A pediatric neurosurgeon performed a gross total resection (GTR) of the tumor, after which Kaylahni was transferred to the PICU, where neurosurgeons and pediatric intensivists stabilized her. She subsequently required placement of a shunt for hydrocephalus, and a Broviac catheter for the administration of chemotherapy agents. Her tumor proved to be an ependymoblastoma, a rare form of ependymomas, which account for only 6 to 12 percent of pediatric brain tumors. Following surgery, her doctors chose not to utilize radiation therapy, since it is associated with extremely poor intellectual outcomes in young children, causing profound cognitive impairment. Instead, Kaylahni participated in a trial of aggressive chemotherapy, known as Head Start III, that is used for infants and toddlers under 3 years of age.1
Dr. Dias elaborates, "This trial tested the efficacy of extremely high-dose chemotherapy using a variety of agents that aggressively treat the tumor, but completely destroy the patient's bone marrow. Prior to administering the chemotherapy, oncologists harvest bone marrow from the child and replace it subsequently as an autologous stem cell rescue after the chemotherapy has been utilized." In Kaylahni's case, this treatment has proven to be extremely successful. Due to the size and location of her tumor, some visual loss was expected on one side, but as pediatric patients tend to do, she has adapted well. Other residual effects are high-frequency hearing loss that requires the use of hearing aids, and a mild attention deficit disorder, but she is otherwise doing very well and is essentially cured from her tumor. Now 6.5 years old, she attends school and is doing "just great," according to her doctors.
Kaylahni's case demonstrates the multidisciplinary care available at Penn State Hershey Children's Hospital, where a brain tumor team meets monthly to discuss cases, plan treatments and discuss outcomes. "As one example, our patients with atypical teratoid rhabdoid tumors (AT/RTs), which are usually associated with an extremely poor prognosis and high mortality rate, have done very well after a combination of aggressive surgical and medical treatments. In fact, we would put our outcomes and survival rates for childhood brain tumors up against any institution in the country."
Additionally, Kaylahni's case underscores the importance of collaboration with specialists around the country. Along with most children's hospitals with great expertise in pediatric cancer, Penn State Hershey belongs to a multi-institution organization called the Children's Oncology Group (COG). COG was formed when leaders at children's hospitals nationwide decided that no one institution had enough cases of pediatric brain tumors to establish best practices. The organizations began to pool their knowledge and patient bases in hopes of improving outcomes. For each tumor type, children are treated with a uniform treatment protocol, regardless of the hospital administering the treatment. COG conducts ongoing studies that both seek to improve survival, as well as to decrease the side effects of treatment. A large number of children nationwide are entered into these trials, which allows sufficient data to be collected to make definitive recommendations. "As a result, we've improved the care and outlook for many pediatric cancers, including most pediatric brain tumors," says Dr. Dias. "Brain tumors used to be associated with consistently poor outcomes, but are now often curable."
Not only can central Pennsylvania families access some of the nation's best pediatric neurosurgery care at Penn State Hershey Children's Hospital, but they also have the support of Four Diamonds, a charitable organization that is based at Penn State Hershey Children's Hospital, whose mission is to conquer childhood cancer. Four Diamonds supports patients with pediatric cancer and pediatric brain tumors, both benign and malignant, by paying virtually all medical expenses not covered by health insurance. This financial peace of mind presents a significant advantage to families who are already dealing with considerable anxiety during the difficult journey of pediatric cancer treatment.
---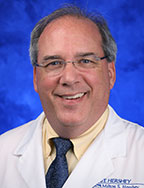 Mark S. Dias, M.D., FAAP, FAANS
Professor of Neurosurgery
Director, Pediatric Neurosurgery
PHONE: 717-531-4384 • E-MAIL: mdias@hmc.psu.edu
CLINICAL INTERESTS: "My clinical interests include all areas of pediatric neurosurgery, especially children with congenital brain and spinal cord malformations, such as spina bifida; children with brain tumors and children with traumatic brain injuries including abusive head injury. My research focuses on children with spina bifida and those with abusive head trauma (formerly known as Shaken Baby Syndrome)."
---
Reference:
https://clinicaltrials.gov/ct2/show/NCT00392886. Accessed September 2, 2015.