Team-based Approach to Targeted Temperature Management (TTM) Optimizes Recovery Post-Cardiac Arrest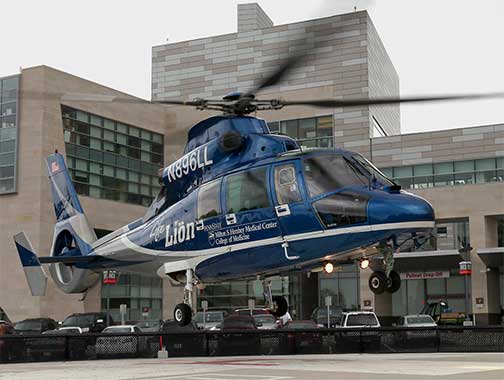 For patients in cardiac arrest, every second counts, and targeted temperature management (TTM), or therapeutic hypothermia (TH), can prevent further damage. At Penn State Health Milton S. Hershey Medical Center, TTM protocol begins in the field, as the mobile intensive care unit, Life Lion, is empowered to initiate this neuroprotective therapy to unresponsive patients with vital signs. Upon arrival at the Medical Center, cooling to a targeted temperature of 32 to 36 degrees Celsius is continued via leg and torso wraps that are connected to a core cooling/warming pump device that travels with the patient to the cardiac catheterization lab and to the cardiac critical care unit. This temperature range is new, and recently has changed based on the most current research. TTM has been shown to improve neurological outcomes in patients following sudden cardiac arrest with return of spontaneous circulation (SCA-ROSC).1 A cerebral performance category (CPC) scale is used to measure cognitive recovery.
A team-based, collaborative approach is crucial to the success of this program, says Steven Ettinger, MD, director of operations, Penn State Heart and Vascular Institute. "It's key to bring the best of the various specialties to the patient's bedside," he says, emphasizing that this collaboration begins in the field with the emergency medical technicians in the Life Lion air and ground medical transport program, and continues with emergency medicine physicians, interventional cardiologists, cardiologists, neurologists and intensivists sharing responsibility for the patient's care. The end goal is to optimize the patient's recovery by preserving not only cardiac function but also brain function. On average, 60 patients benefit from this treatment annually at Penn State Health Milton S. Hershey Medical Center.
Dr. Ettinger notes the crucial role that nurses play in the TTM protocol: "They are the ones who are at the patient's bedside directly administering much of the care and monitoring essential parameters, such as core temperature, electrolyte balances and hemodynamics. In addition, they work closely with the intensivists and nurse practitioners in the Heart and Vascular Institute Critical Care Unit (HVICCU) so that any issues are identified and treated as soon as possible." His colleague Christoph Brehm, MD, intensivist, concurs. "The nursing role is extensive in this detailed protocol. These patients are extremely complex and require a great deal of attention."
Dr. Brehm also stresses that outcomes are improved for patients in cardiac arrest with the Heart and Vascular Institute's availability of advanced technology, such as extracorporeal membrane oxygenation (ECMO), to help keep patients alive until neurological function can be adequately assessed. One study demonstrated that this therapy is associated with a 40 percent improvement in the 30-day survival rate.2 Assessment of neurological function can often take days, as TTM and rewarming are processes that must be undertaken slowly to avoid sudden arrhythmias. In addition, ECMO stabilizes the patient's hemodynamics and prevents organ damage that can occur with prolonged cardiogenic shock. ECMO, combined with the detailed TTM protocol, improves chances of not only survival, but return of cognitive function.
Professor, Medicine and Radiology
Director of Operations, Penn State Heart and Vascular Institute
Program Director, Interventional Cardiology
Phone: 717-531-7457
Email: settinger@pennstatehealth.psu.edu
Fellowship: Cardiology, Penn State Health Milton S. Hershey Medical Center, Hershey, Pa.
Residency: Internal medicine, Long Island Jewish Medical Center, New Hyde Park, N.Y.
Medical School: Sackler School of Medicine, Tel Aviv, Israel
Connect with Steven M. Ettinger, MD, on Doximity
Assistant Professor, Surgery
Program Director, Heart and Vascular Critical Care Unit and Adult ECMO Program Intensivist
Phone: 717-531-7459
Email: cbrehm@pennstatehealth.psu.edu
Residency: Cardiothoracic surgery, Ruhr-University Bochum, Bochum, North Rhine-Westphalia, Germany
Medical School: Faculty of Medicine – Phillips University of Marburg, Marburg, Germany
Connect with Christoph E. Brehm, MD, on Doximity
References:
Ettinger SM, Blosser S, Terndrup T, Reichwein R, Sarfield E, Bressler S, et al. Abstract 89: Penn State Hershey: 4-Year Experience in Mild Therapeutic Hypothermia Program – Lessons Learned. Circulation. 2011; 124: A89.
Leick J, Liebetrau C, Szardien S, Fischer- Rasokat U, Willmer M, van Linden A, et al. Door-to-implantation time of extracorporeal life support systems predicts mortality in patients with out-of-hospital cardiac arrest. Clin Res Cardiol. 2013 Sep;102(9):661-9.